Germany has announced their 23-woman roster for the SheBelieves Cup from March 1-7.
The tournament will be the first for new head coach Steffi Jones, who took over the team following the retirement of long-time coach Silvia Neid. Jones, a legendary German player and member of the 2003 World Cup winning team, is currently unbeaten in four matches with the team.
Jones' team will be without several key players as Melanie Leupolz, Simone Laudehr, and Lena Goeβling were unavailable, the latter two due to injury. Tabea Kemme and Svenja Huth were named to the initial roster but were deemed ineligible due to a meniscus tear and ongoing knee issues, respectively. They are replaced by Verena Faißt and Hasret Kayikci.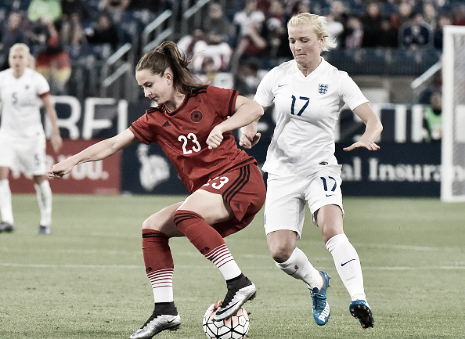 The reigning Olympic gold medalists do return several key young players who are already making their mark on the full national team. Sara Däbritz was just 21 years old when she was named to the 10 woman shortlist for 2016 FIFA Women's Player of the Year and the Bayern Munich playmaker is making a name as a goal-scoring midfielder after tallying two at the 2015 World Cup, three at the Olympics, including one in the semifinal against Canada, and the tying goal in a 2-1 victory over England at last year's SheBelieves Cup. Another bright talent, Dzsenifer Marozsan, has been knocking about the world stage for years following her debut for the German national team at 18. At 24 she now holds the captain's armband and the strings of the German attack, possessing sublime close-quarter skill and a punishing long-range shot. With Germany missing so many players, they will need their young stars to step up and fill their shoes.
After besting France 1-0 and England 2-1, Germany finished in second place in last year's SheBelieves Cup, falling 1-2 to the United States in a match in which they only needed a point to secure the tournament crown. This year Germany opens the tournament against the Americans on March 1 at 7 pm ET at the Talen Energy Stadium in Chester, PA. They follow that up with France on March 4, at 2:15 ET at the Red Bull Arena in Harrison, NJ, and conclude the tournament against England on March 7 at 4 pm ET at RFK Stadium in Washington, D.C.
Germany Roster by Position
Goalkeepers (3): Laura Benkarth (SC Freiburg), Almuth Schult (VfL Wolfsburg), Lisa Weiß (SGS Essen)
Defenders (9): Anna Blässe (VfL Wolfsburg), Pauline Bremer (Olympique Lyonnais), Kristin DeMann (1899 Hoffenheim), Verena Faiβt (Bayern München), Kathrin Hendrich (FFC Frankfurt), Josephine Henning (Olympique Lyonnais), Isabel Kerschowski (VfL Wolfsburg), Babett Peter (VfL Wolfsburg), Felicitas Rauch (FFC Turbine Potsdam)
Midfielders (6): Sarah Däbritz (Bayern München), Linda Dallman (SGS Essen), Sara Doorsoun (SGS Essen), Leonie Maier (Bayern München), Dzsenifer Marozsan (Olympique Lyonnais), Alexandra Popp (VfL Wolfsburg)
Forwards (5): Mandy Islacker (FFC Frankfurt), Hasret Kayikci (SC Freiburg), Lina Magull (SC Freiburg), Anja Mittag (VfL Wolfsburg), Lena Petermann (SC Freiburg)