 As the 2017 She Believes Cup gets on the way, France and England start the tournament off with a bang. Playing in front of a large crowd, 8,616 in attendance, in Chester, PA, England was on a mission. England has not been able to get a win against France since 1974. With such a dry spell, England was hungry for a win.
In Control
As the game started, England came out with force pushing high in the front causing problems for the French defense. England started with the long, hard shots making France's goalkeeper, Sarah Bouhaddi, work hard to come up with huge saves that kept the game scoreless for most of the first half. England was finally able to break through in the 32nd minute with a bullet of a kick from outside of the box by Jordan Nobbs that Bouhaddi was unable to deal with. Bouhaddi was able to get a hand to it but the ball was to well placed to stop.
England is up 1-0 and continued to press the French backline. This hard press caused the first booking of the game with Gaëtane Thiney, playing for France, receiving a yellow card for a hard tackle in the 36th minute. France didn't seem to start pushing back until the end of the first half. Millie Bright, playing for England, received a yellow card for a late tackle in the 44th minute. The first half ended with England on top, 1-0, showing they were well in control.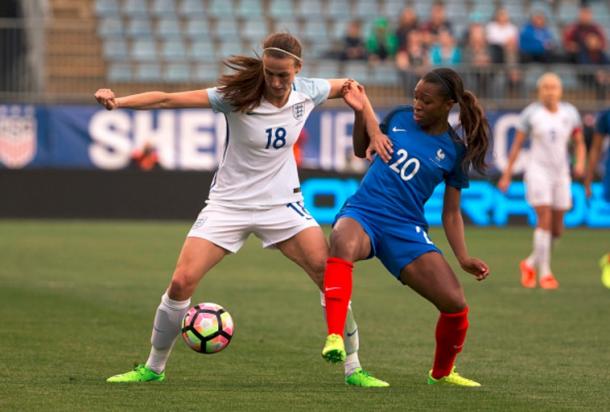 France Pushes Back
With England controlling the first half of the game, France started the second half playing hard. They took notes from England and started to play deep making England open up their lines to help defend. The second half did not go as well for England as the first half did. With France pushing deep and England opening up, France was able to get some big shots off. England goalkeeper Karen Bardsley came up with big saves time after time keeping England in the lead. England began putting in substitutions at minute 54 with Rachel Williams coming on for Jodie Taylor. France also made a few strategic substitutions in minute 61 and 66. In minute 71, Kadidiatou Diani of France picked up an injury and was replaced by Eugénie Le Sommer. England also had Ellen White pick up an injury in minute 73 who was then replaced by Nikita Parris. All the hard work put in by England would not be enough to keep France off the board. In minute 80, Marie-Laure Delie headed in a beautiful ball crossed into the box by Élodie Thomis. Thomis seemed to be impossible for England to contend with down the right side.
Just minutes after France draws even with England, Griedge Mbock Bathy, playing for France, is injured at minute 83 and replaced by Amel Majri. With England feeling the pressure for the win, Bardsley picks up a yellow in minute 90. As the four extra minutes added on for injury disappeared, it looked as if the game would end in a draw until a last minute corner is given up by England. Majri sends in a perfect cross that Wendie Renard is able to get a head on giving France a 2-1 lead over England. Just seconds after the restart, the whistle is blown and the first game of the 2017 She Believes Cup is over with France beating England 2-1.