After having sources confirm to The Oregonian yesterday, the Portland Thorns have officially announced that they have acquired goalkeeper Britt Eckerstrom in a trade with the North Carolina Courage. In exchange for Eckerstrom, the Courage receive Portland's two fourth-round picks in the 2018 NWSL College Draft.
The goalkeeper was originally picked by the Courage, who at the time were known as the Western New York Flash, in the third round of the 2016 NWSL College Draft. She was the first goalkeeper picked in the draft at number 26 overall after coming off a season where helped Penn State claim the 2015 NCAA Championship.
Throughout the course of the 2016 season, Eckerstrom made three starts for Western New York, making a grand total of 16 saves and recording a goals against average of 1.33. She was part of the Western New York Flash squad that went all the way to claim the 2016 NWSL Championship back in October.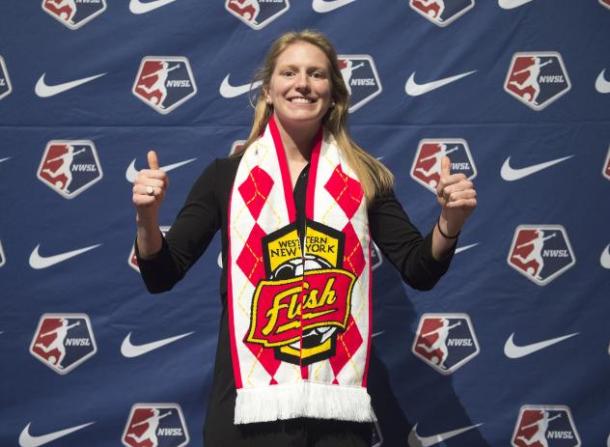 "We are excited to welcome Britt to Portland; she is a talented young goalkeeper with a tremendous work ethic and desire to be the best," Portland Thorns head coach Mark Parsons said in the Thorns' official press release. "Britt brings great athletic ability and quality distribution, and I look forward to seeing her develop and compete under the guidance of Thorns FC goalkeeper coach Nadine Angerer."
On the other side, Courage head coach Paul Riley said in the Courage official press release: "Britt was outstanding in the games she played last year and she has a great opportunity in Portland to become their starting keeper. We want to thank her for her commitment to the Championship winning team. She was a huge presence in the locker room and a tremendous asset to our club. She has a very bright future ahead of her and we wish her sincere wishes for this year and rest of her career."