The U-23 Women's National Team has released the rosters for two upcoming camps that will pit them against four NWSL teams and a top college program. The first camp will be held in Portland, Oregon from March 26-April 1 where the team will compete in the Thorns Spring Invitational against the Portland Thorns, the Chicago Red Stars, and the Houston Dash of the NWSL.
After that, the team will travel to Orlando, Florida to take part in a training camp from April 2-8 that will include matches against the NWSL's Orlando Pride and the University of Central Florida.
Each camp features a different roster, and no professional players were included in either group. Six players: Alana Cook, Taylor Isom, Tegan McGrady, Gabrielle Seiler, Brianna Pinto, and Savannah McCaskill will participate in both camps.
B.J. Snow, formerly the head coach of the U-17 WNT, will act as head coach of the U-23 WNT for the duration of the two camps. He replaces Laura Harvey, who briefly helmed the U-23 WNT program through three games at the La Manga Tournament, but has since returned to Seattle to coach the Reign, who are in their own preseason preparations.
Portland Tournament
The roster for the Thorns Spring Invitational is made up of 22 college and youth club players. Five of them, Tierna Davidson, Savannah McCaskill, Casey Murphy, Brianna Pinto, and Ashley Sanchez, have trained with the full national team, but have yet to earn a cap. Four players, Jaelin Howell, Sophia Smith, Pinto and Sanchez have not yet graduated high school.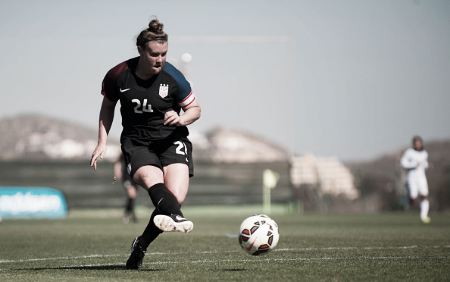 The team will play four matches at Providence Park against some of the top teams in the NWSL. They will play the Houston Dash on March 26, reigning regular season champs Portland on March 29, and the Chicago Red Stars on April 1. Of the four matches, only the game against the Thorns will be available to stream online. Fans can watch that game at www.thornsfc.com.
U.S. Under-23 Women's National Team Roster – Portland, Ore. (March 23-April 1)
GOALKEEPERS (2): Casey Murphy (Rutgers; Bridgewater, N.J.), Bella Geist (Oregon State; Milwaukie, Ore.)
DEFENDERS (7): Alana Cook (Stanford; Far Hills, N.J.), Taylor Isom (BYU; Provo, Utah), Ellie Jean (Penn State; Coventry, Conn.), Tegan McGrady (Stanford; San Jose, Calif.), Kaleigh Riehl (Penn State, Fairfax Station, Va.), Gabrielle Seiler (Florida; Peachtree City, Ga.), Alexis Warner (Michigan State; Ypsilanti, Mich.)
MIDFIELDERS (7): Tierna Davidson (Stanford; Menlo Park, Calif.), Jordan DiBiasi (Stanford; Littleton, Colo.), Jaelin Howell (Real Colorado; Windsor, Colo.), Brianna Pinto (CASL; Durham, N.C.), Taylor Racioppi (Duke; Ocean Township, N.J.), Michelle Xiao (Stanford; Omaha, Neb.), Sandra Yu (Notre Dame, Strongsville, Ohio)
FORWARDS (6): Simone Charley (Vanderbilt; Hoover, Ala.), Mallory Eubanks (Mississippi State; Lexington, Ky.), Tziarra King (N.C. State; Sicklerville, N.J.), Savannah McCaskill (South Carolina; Chapin, S.C.), Ashley Sanchez (SoCal Blues; Monrovia, Calif.), Sophia Smith (Real Colorado; Windsor, Colo.)
Florida Training Camp
B.J. Snow named 20 players to the second camp roster. Brianna Pinto is the only player on the roster not currently in college. The team will face the University of Central Florida on April 5 and will play the Orlando Pride in a closed-door match on April 7.
U.S. Under-23 Women's National Team Roster – Orlando, Fla. (April 2-8)
GOALKEEPERS (2): Cassie Miller (Florida State; Cave Creek, Ariz.), Arielle Schechtman (Georgetown; Del Mar, Calif.)
DEFENDERS (7): Megan Buckingham (North Carolina; Novi, Mich.), Kristen Cardano (Florida; Tulsa, Okla.), Alana Cook (Stanford; Far Hills, N.J.), Zoey Goralski (UCLA; Naperville, Ill.), Shannon Horgan (Clemson; Long Beach, N.Y.), Taylor Isom (BYU; Sandy, Utah), Tegan McGrady (Stanford; San Jose, Calif.)
MIDFIELDERS (7): Sarina Bolden (Loyola Marymount; Milpitas, Calif.), Rachel Corboz (Georgetown; Green Brook, N.J.), Kristina Fisher (Miami; Jupiter, Fla.), Mayra Pelayo-Bernal (Florida; West Palm Beach, Fla.), Brianna Pinto (CASL; Durham, N.C.), Gabrielle Seiler (Florida; Peachtree City, Ga.), Chloe Williams (Eastern Washington; Spokane, Wash.)
FORWARDS (4): Hannah Diaz (Saint Mary's; Hidden Valley Lake, Calif.), Sarah Luebbert (Missouri; Jefferson, City, Mo.), Savannah McCaskill (South Carolina; Chapin, S.C.), Hailey Skolmoski (Utah; Riverton, Utah)