 The U.S. Women lost the #1 position to Germany in the latest edition of the FIFA Women's World Rankings. Technically the reigning Olympic champs actually lost a point, but still advanced to the number one spot in the rankings because the US lost more points.
The new ranking marks the first time the USWNT has moved from the top spot since claiming it after their win at the Algarve Cup in 2015. The Americans have never been ranked lower than second since FIFA began collating the Women's World Rankings in 2003. The USWNT last placed second in the rankings in 2014 after a series of disappointing results, including a loss and tie to Brazil.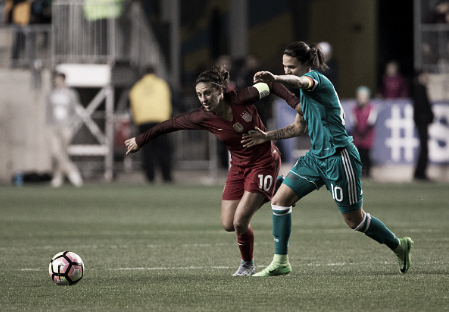 The change in ranking shouldn't be a surprise given the USWNT's performance at recent tournaments. Last summer they lost in the quarterfinals of the Olympics, their worst tournament exit ever, and this March they finished dead last in the SheBelieves Cup with losses to the 3rd and 4th ranked teams in the world despite, ironically, defeating Germany in their first match. 2017 was already pencilled in as a development and rebuilding year for the team, so the news shouldn't be considered a red flag. There's nothing wrong with a team as dominant as the United States taking early losses if they reap greater gains down the road, especially given the rate at which women's soccer is evolving and developing across the globe.
Rounding out the top 10 beneath Germany and the USA, France held the #3 spot and Canada lost points and was surpassed in the #4 spot by England. Behind Canada are Japan and Sweden, who are tied for joint-sixth place as both teams have the same number of points. Close behind them, Australia fell two places to #8. Brazil and Korea DPR were unchanged at #9 and #10 respectively.
Russia, the USA's opponent in their upcoming April friendlies, fell two places in the rankings, coming to a final resting place at #25.
The complete list of rankings can be found here.