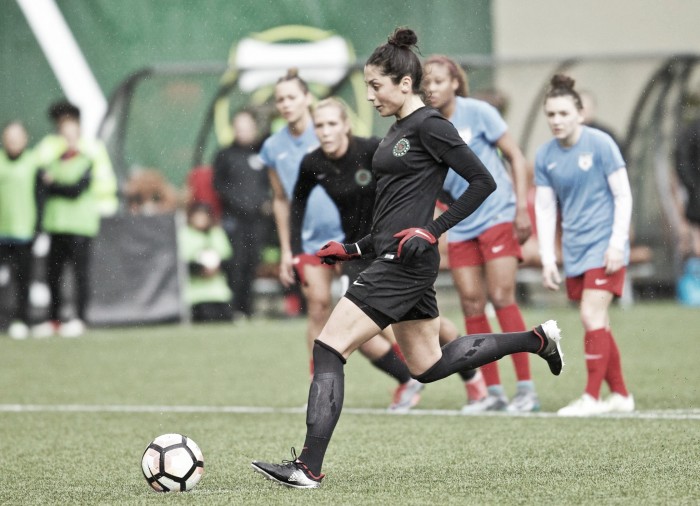 Game two started with the Portland Thorns squaring off with the Chicago Red Stars on a rain-soaked field. Both teams were starting younger players as players such as Tobin Heath, a forward for the Thorns, and Julie Johnston, a defender for the Red Stars sitting out this game.
Exciting First Half
As the Red Stars play for game two, they came out with a bang. The Red Stars received the first corner of the game in minute two, but a foul in the box stopped any chance of a conversion. Minute eight had the left foot cannon of Courtney Raetzman, a midfielder for the Red Stars, just missing a bullet, striking the crossbar with a massive force. After the quick start and a few breakaways, the game starts to settle in as both teams slowed the game down. Minute 25, midfielder Allie Long received a pass inside the box and was mowed over by defender Sarah Gorden, drawing a penalty kick for the Thorns. Nadia Nadim took the penalty kick and finds the back of the net giving the Thorns a 1-0 lead in minute 26. Minute 38 brought the first substitution, with Nadim making way for forward Hayley Raso. The first half ends shortly after with the Thorns leading 1-0.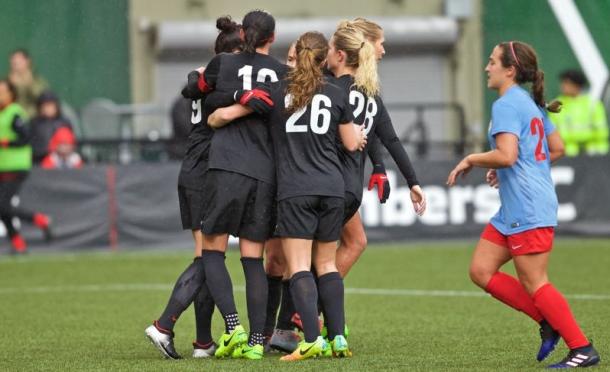 A Quiet Second Half
With the excitement of the first half, many were expecting the second half to bring more of the same. The Red Stars started the second half with 3 substitutions. Both teams were playing hard, but both were unable to convert free-kicks in dangerous locations or corners received. The Thorns seemed to dominate the ball possession in the second half making it hard for the Red Stars to get anything moving. A few late chances presented themselves for the Red Stars to pull even, but it was all for not. The final whistle blew with the Thorns beating the Red Stars 1-0.