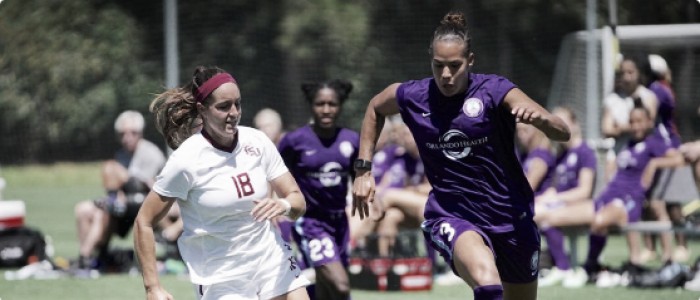 Almost every NWSL team saw action this weekend. The Boston Breakers missed out when their game against the University of Connecticut was cancelled due to inclement weather. Many teams went without some of their international players as they had been recalled by their national teams.
Chicago 0, U23 WNT 0
The Chicago Red Stars played the U23 WNT to a scoreless draw in the final day of the 2017 Portland Invitational. Both teams had multiple players unavailable due to duty with the full WNT. Chicago played without Christen Press, Alyssa Naeher, and Casey Short, and the U23s played without Jaelin Howell and Sophia Smith.
Both teams finished the match with 9 shots. Chicago had 2 shots on goal to the U23s 1. Both teams finished the tournament with a 1-1-1 record.
Chicago Lineup: 18-Michele Dalton; 3-Erin Gilliland, 16-Samantha Johnson, 14-Sarah Gorden, 7-Laura Comeau; 13-Morgan Proffitt (34-Mary Luba, 46), 24-Danielle Colaprico, 10-Vanessa DiBernardo (capt.), 4-Alyssa Mautz (29-Brittany Ratcliffe, 46); 12-Cara Walls (25-Simone Kolander, 46), 9-Stephanie McCaffrey (19-Summer Green, 75)
U23 WNT Lineup: 22-Bella Geist (1-Casey Murphy, 64); 14-Alana Cook, 3-Kaleigh Riehl, 13-Gabrielle Seiler (23-Tziarra King, 73), Alexis Warner (4-Ellie Jean, 73); 7-Tierna Davidson, 10-Brianna Pinto, 16-Sandra Yu (17-Tegan McGrady, 46), 11-Mallory Eubanks (5-Taylor Racioppi, 64), 9-Ashley Sanchez, 24-Savanna McCaskill (capt.)
FCKC 2, Nebraska 1
FC Kansas City toppled Nebraska 2-1 in their second preseason match. The Blues came from a goal behind thanks to a brace by Shea Groom.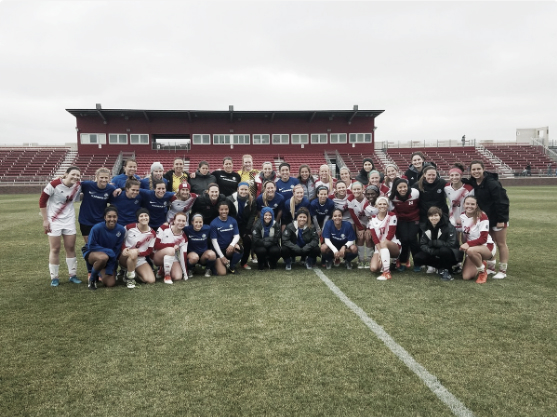 In the press release following the game, FCKC head coach Vlatko Andonovski said: "It was great preparation for us. Nebraska was organized and quick…we were forced to figure out a way and we were forced to play quick, to be clinical, to be technical on every touch and when we were not we got punished, that's how we got scored on."
Kansas City evened the score in the 37th minute when Alexa Newfield chipped a ball to Groom, who dribbled around the goalkeeper and finished into the open net. The Blues nabbed the winning goal in the 85th minute when the referee judged a Nebraska player to have handled Sydney Leroux's shot in the box. Groom took the penalty and buried it, winning the game for FCKC 2-1.
With Becky Sauerbrunn away on international duty, Andonovski juggled the backline, giving rookies Sydney Miramontez and Rashida Beal looks in the center.
"Obviously they are two young center backs and there are different decisions they could have made, but some of that comes with experience and comes with games. It's not fair to compare them to Becky Sauerbrunn and Yael Averbuch, but we have to be prepared to play with or without them," Andonovski said.
FC Kansas City First Half: Barnhart; Gibbons, Reed, Miramontez, Taylor; Newfield, LaBonta, Bowen; Leroux, Kelly, Groom
FC Kansas City Second Half: Barnhart; Gibbons, Reed (Patterson 76'), Miramontez, Taylor (Beal 62'); Newfield (Stiever 62'), Tymrak, Bowen; Leroux, Flynn, Groom
NC Courage 3, Wake Forest 1
The North Carolina Courage rallied to a 3-1 victory over Wake Forest University on Saturday. The Courage got a goal from Jessica McDonald and goals from Brazilian international signings Debinha and Rosana in the come from behind win.
Wake Forest scored first and took the lead into halftime. The Courage came out firing in the second half and scored three unanswered goals, first from Debinha. McDonald gave the Courage their first lead of the afternoon, heading home Abby Dahlkemper's corner for the go-ahead goal. Rosana got a third for insurance courtesy of Courtney Niemec getting endline in space and serving a perfect ball. Rosana out-leapt the Wake Forest goalkeeper for the final goal of the afternoon.
The Courage host Duke University on Tuesday, April 4.
Orlando Pride 3, FSU 0
Orlando wrapped up their fourth preseason match on Saturday, April 1 with a 3-0 win over Florida State University. Pride defender and FSU alumna Toni Pressley had two assists, while Jasmyne Spencer, Danica Evans, and Chioma Ubogagu supplied the goals.
Head coach Tom Sermanni's post-match comments indicated he liked where his team was at this point in the season: "I was pleased by the performance today. [FSU] put us under a bit of pressure and gave us a slightly different challenge than the games we've had so far," Sermanni said. "I think we saw improvement today in our general match fitness. A little bit of improvement today on our ball movement, which was better than it's been, and we put players in there for longer today than we had been. We're starting to see players getting close to that match fitness level that we require."
Spencer got her goal in the 35th minute off a service from Pressley. Evans scored on a header courtesy of Kristen Edmonds at the stroke of halftime. The Pride finished the scoring in the 71st minute when off-season addition Ubogagu received a pass from Pressley and beat the Seminoles' goalkeeper for a 3-0 finish.
Orlando conclude their pre-season matches with a closed-door game against the U-23 WNT on Friday, April 7.
Orlando Lineup: Bledsoe (Kopale 80'); Camila (Fields 63'), Alleway (Levin 73'), Kennedy (Weatherholt 63'), Pressley; Driesse (M. Evans 46'), Edmonds, Monica (O'Brien 73'); Ubogagu (Burkenroad 73'), D. Evans (Hagen 63'), Spencer (Rodrigues 73')
Portland 1, Houston 1
The Portland Thorns finished out the 2017 Thorns Invitational Tournament with a 1-1 tie with the Houston Dash. Mana Shim scored the Thorns' only goal off a strike from the top of the 18 in the in the 17th minute. Rachel Daly equalized for the visitors in the 76th minute with a thunderous strike from well outside the area.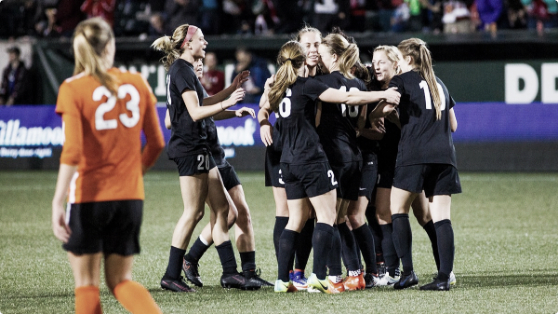 7,252 spectators were on hand for the match, which featured the return of fan favorite Meg Morris, who had missed time for hip surgery, and the debut of goalkeeper Britt Eckerstrom, who was acquired from the North Carolina Courage in March. Both teams played without their American, Canadian, or French internationals, who had been recalled to national team training camps.
It was a physical match with multiple yellows and time-outs for injury. The Thorns had several chances to win it late, including a volley by goal-scorer Shim that flashed just over the crossbar.
Portland Lineup: GK Eckerstrom, D Cox, D Sonnett, D Menges, D Johnson (Boon, 62), M Shim, M Hubly, M Boureille, F Herndon (Morris, 75), F Nadim (Fitzgerald, 66), F Weber
Houston Lineup: GK Williams, D Poliana (Van Wyk, 90), D Roccaro, D Privett, D Benites, M Brooks ©, M Andressa (Heap, 90), M O'Sullivan, F Ochs, F Daly, F Henderson (Falknor, 69)
Sky Blue 1, UNC 0
Sky Blue FC are two-for-two in preseason matches after beating the University of North Carolina 1-0 on Saturday, April 1. SBFC rode a 16th minute goal from midfielder Raquel Rodriguez to the shutout victory.
"It was fantastic to get in this game against UNC today," Sky Blue head coach Christy Holly said via press release. "Under the guidance of Anson Dorrance, they have a very good technical and tactical understanding of the game, and they presented us with a number of challenges. Playing this match serves as great preparation for our NWSL season."
Several players combined for Sky Blue to unlock UNC's defense. English international Leah Galton made a run down the flank and served the ball to Maya Hayes, who collected it and played it to Rodriguez. The Costa Rican international finished first-time from the top of the box for a 1-0 final scoreline.
Sky Blue's final preseason game is scheduled for Sunday, April 9, when they host Penn State University.
Sky Blue Lineup: C.Casey, Kayla Mills, C.Rampone (D.Richardson-69), M.Freeman, E.Skroski (E.Simon-62), S.Killion (C.Atanda-70), R.Rodriguez (N.Stanton-70), D.Corboz (D.Schulmann-69), T.Lytle (M.Tiernan-62), L.Galton (M.Meehan-70), M.Hayes (S.Kerr-55)
Washington 4, Duke 3
The Washington Spirit defeated Duke University 4-3 in the weekend's highest scoring affair. The Spirit came out on top of a topsy-turvy game thanks to a double from Katie Stengel and individual scores from Cheyna Williams and Meggie Dougherty Howard.
Stengel opened the scoring in the 23rd minute off a feed from rookie Arielle Ship. Duke responded quickly, with Imani Dorsey leveling the score just four minutes later. Stengel was involved in the Spirit's second goal when she picked out 2017 draft pick Dougherty Howard in the 37th minute. Again Duke had a quick answer, tying the match at 2 apiece in the 41st minute through Kayla McCoy, and taking the lead just three minutes with Dorsey's second of the day.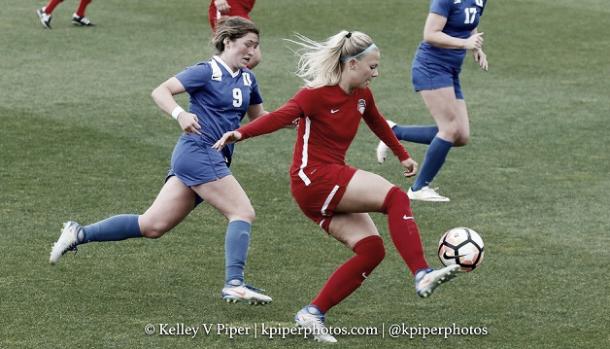 Washington subbed in Joanna Lohman and Tori Huster at halftime, and they made the difference when Lohman played in Williams' for the Spirits third goal. Stengel got the game-winner in the 59th minute with an individual effort from long range.
The Spirit wrap up pre-season on Saturday, April 7 when they host the University of Virginia at 7 p.m.
Washington Spirit Lineup: 2- Arielle Ship (40- Gloria Douglas 81'), 5-Whitney Church, 6-Kassey Kallman, 7-Line Sigvardsen Jensen (23- Tori Huster, 46'), 12-Katie Stengel (37-Crystal Thomas 70'), 16-Cameron Castleberry (32- Lauren Lazo 77'), 19-Kristie Mewis (9- Havana Solaun 65'), 20-Cheyna Williams, 21-DiDi Haracic, 24-Estelle Johnson, 29-Meggie Dougherty Howard (15- Joanna Lohman 46')