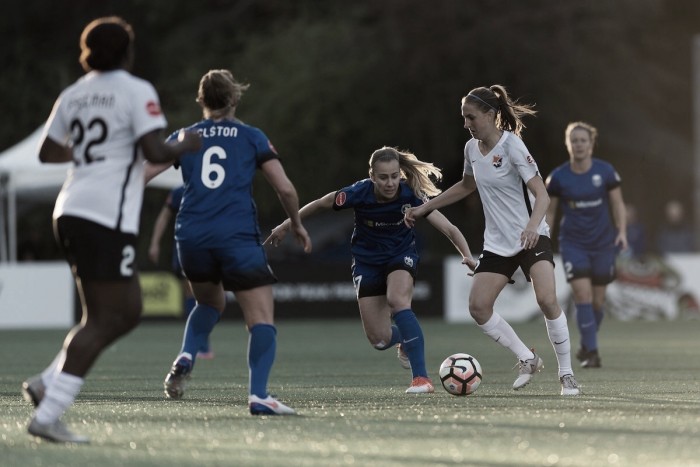 Fans gathered at Memorial Stadium in Seattle for the first season game to kick off the 2017 NWSL season. Many fans weren't present due to the Easter weekend, which made watching the game through the go90 app that much more convenient.
A scoreless first half
After the whistle blew, Sky Blue FC started with the kick off. Even in the first three minutes of the game midfielder Jess Fishlock took a shot that just went over the ball. Midfielder Nahomi Kawasumi also had a nice header that was just too high above the goalpost. With the anticipation of the first season game, Seattle was ready and striving for a goal in the early minutes of the match. The Reign had a total of 11 shots on goal while the Blues had more opportunities as out of their 22 shots, 17 were among the goal.
The Reign maintained possession of the ball through passing in order to regroup and take shots against New Jersey. The Blues defense worked hard as the Reign forwards weren't able to get anything in. As the teams wrapped up the first half, the score still remained 0-0.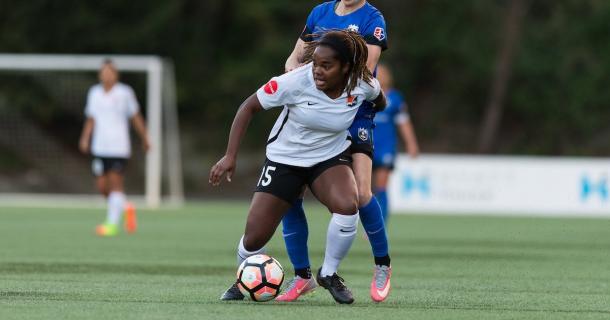 Successful penalty kicks
At this point in the match, both teams were fighting for a goal. In the 55th minute, Erica Skroski took down midfielder Megan Rapinoe in the box, which allowed for a penalty kick for Seattle. Rapinoe made a goal in the 56th minute that put the Reign in a 1-0 lead.
This lead for Seattle didn't last long as another penalty kick for the Blues took place in the 62nd minute. Defender Merritt Mathias was fouled against Sky Blue forward Kelley O'Hara in the box. Sarah Killion took the penalty kick and although Reign goalkeeper Hayley Kopmeyer dived in the right direction, she wasn't able to make a save on Killion's shot. The score was then tied up 1-1.
In the fight for a first season victory, Kopmeyer was able to stop several other shots that followed. She made a total of eight saves for the night. The Reign and the Blues persevered, but nothing reached the back of the net. The two penalty kicks that occurred less then ten minutes apart from each other were the two goals of the night for both sides.
In regards to scoring goals, head coach Laura Harvey of the Reign was quoted via Twitter as she stated:
"We said before the game that we have to have a mentality of grit and determination, then the goals will come."
Ahead for the Reign and the Blues
Seattle Reign and Sky Blue FC ended the night with a 1-1 outcome. Both teams currently have one point in their team standings. The Reign will face the Houston Dash on Saturday, April 22nd for their second season match. Sky Blue FC will compete against the Boston Breakers on April 23rd.