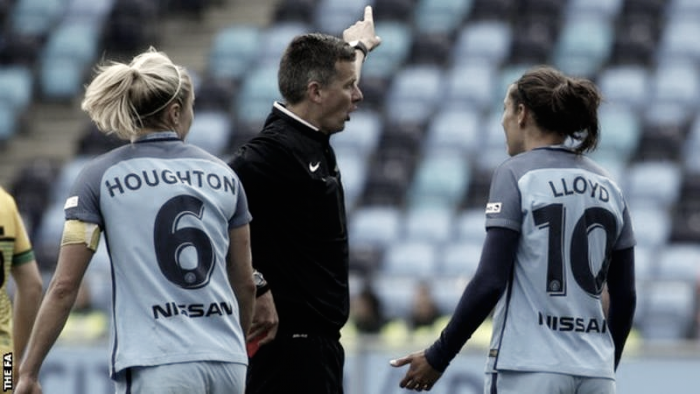 On Sunday Manchester City faced Yeovil Town of the Women's Super League One Spring Series. Carli Lloyd, Manchester City, was sent off in the final minutes of the City's meeting with Yeovil Town. In the 89th minute, Lloyd was caught elbowing Yeovil Town's Annie Heatherson in the box off a Town free kick. She was shown a red card and sent off the field. Manchester City went on to win the match, 5-1. That result moved the team into third in the standings.
Following the red card, Lloyd is now suspended for three games with her club, Manchester City. City only has four more games to be played in the Women's Super League One Spring Series, meaning that Lloyd only has one final game. Her deal with Manchester City is up at the end of the Spring Series competition, at its conclusion Lloyd will head back to her US club, the Houston Dash, of the National Women's Soccer League. After reviewing the footage, Manchester City, "accepted " the referee's decision to give Lloyd a red card.
Lloyd will miss two big matches due to her suspension. Manchester City is set to take on Chelsea Ladies FC on Thursday, May 25th. Lloyd will miss that game, meaning she will miss playing against her U.S. Women's National Team teammate, Crystal Dunn. She will also miss Sunday's game (May 28th) against Heather O'Reilly and Arsenal Ladies FC. O'Reilly and Lloyd were also teammates on the U.S. Women's National Team before O'Reilly retired. Dunn, O'Reilly, and Lloyd were part of a movement to play overseas by U.S. Women's National Team players started by Alex Morgan. Morgan who plays for Olympique Lyonnais faced Lloyd in the UEFA Women's Champions League semi-finals. Lloyd scored City's lone goal in the second leg, but it was not enough and City lost 3-2 on aggregate.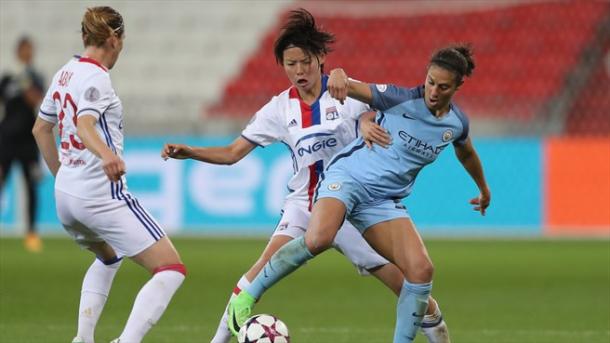 The next two games for Manchester City are crucial. City currently sits below Liverpool Ladies FC and Chelsea Ladies, they are also just one spot above Arsenal Ladies. With games against Chelsea and Arsenal, both coming within Lloyd's suspension City could feel her absence in a big way.