 Just under two months before Euro 2017 is set to begin, Scotland Women's National team will be missing one of their key midfielders. Former Seattle Reign FC and current Arsenal Ladies midfielder Kim Little has ruptured her anterior cruciate ligament (ACL). There is no timetable set for her return but typically ACL injuries can about a year to fully recover from.
Little, 26, has 117 caps and 46 goals in her young career and was set to be one of the key contributors for Scotland in their first ever major international tournament.
She moved to the NWSL in the United States prior to the 2014 season and took the league by storm. She led the league with 16 goals – a league record – was named NWSL MVP, the NWSL Best XI and was named NWSL Player of the Month three times. She finished second in the league with seven assists as well. She also helped lead the Reign to their first ever NWSL Shield and their first ever NWSL Championship game, that they eventually lost 2-1.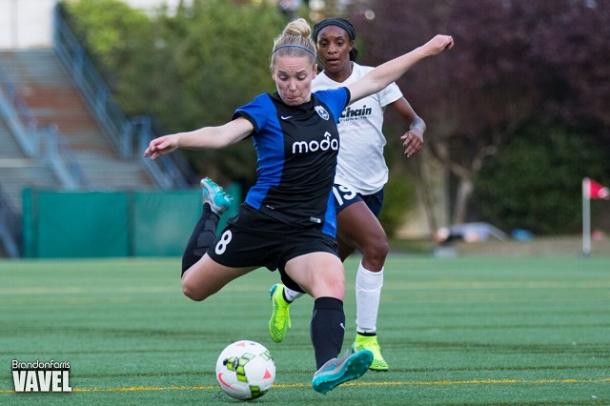 In 2015, she scored ten goals – tied for second in the league – and was named NWSL Player of the Month one. She was once again named to the NWSL Best XI. She did lead the league in assists with seven. Once again, she helped lead Reign FC to the NWSL Shield and NWSL Championship game but once again, they lost.
2016 could have been considered a down year for Little. She scored only six goals – tied of ninth in the league – and had only two assists. She was named to the NWSL Second Best XI and was named NWSL Player of the Week twice.
She never missed a game for Seattle – playing in 63 games with 62 being starts. She logged 5,545 minutes and was one of the most dangerous players in the league during her three years in Seattle. It shouldn't have come as a shock when she returned to England to once again to playe with the Arsenal Ladies.
Hopefully, Little will be able to recover quickly and return to the field. She is a pure joy to watch on the field with her outstanding ball handling skills and deadly passing. Get well Kim.