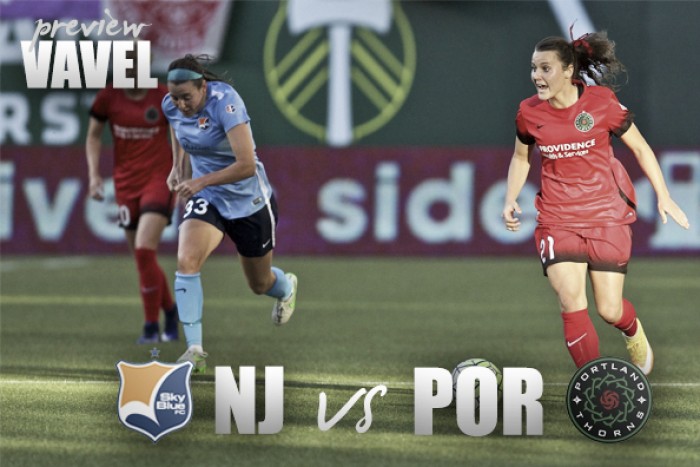 The Portland Thorns are in New Jersey this week to face Sky Blue FC. The Thorns are just one point behind Sky Blue, 12 and 13 points respectively. Sky Blue is undefeated at home with a 3-0-0 record. However, Portland is unbeaten in their last five matches with a record of 2-0-3, but they have not had a win on the road this season. Portland will begin a stretch of road games this Saturday, as they have four of their next six games away from home. This is the first set of back-to-back matches between Portland and Sky Blue. The match is set to begin on Saturday at 7 p.m. at Yurcak Field in Piscataway, New Jersey.
Sheridan continues to impress
Week 7 was a big test for the Sky Blue squad when they played the North Carolina Courage in North Carolina on Wednesday and then came home for a match against the Orlando Pride on Saturday. After being defeated 2-0 by the Courage, Sky Blue bounced back to produce a 2-1 comeback win over the Pride. While they did not get the result they hoped for against the Courage, it proved to be a big night for goalkeeper Kailen Sheridan. Sheridan, 21, had 11 saves against the Courage and then had 3 more saves against the Pride. Sheridan leads the leagues in saves with 33. Her impressive first eight games as a rookie earned her a spot on the NWSL May Team of the Month.
Kerr and Killion leading the offense
Also leading the league for Sky Blue is midfielder, Sarah Killion. Killion has 5 goals on the season, four being calmly put away from the penalty spot. Killion along with Sheridan and Sam Kerr was named to the NWSL May Team of the Month. Kerr has two goals and two assists on the year, but those numbers don't capture how impactful she is on the field. Kerr scored the equalizer in Week 7's victory over the Pride. Kerr also provided the assist on Maya Hayes' game-winning goal over the Pride. Kerr was named the NWSL May Player of the Month.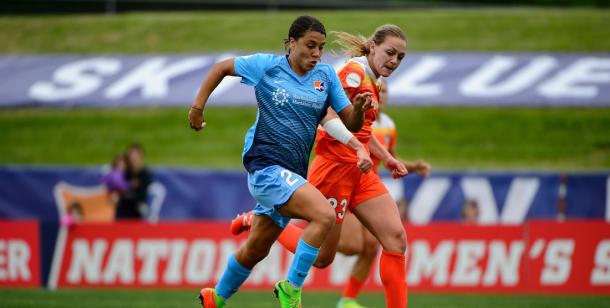 Portland injuries
Portland has been plagued with injuries, losing their explosive midfielder Tobin Heath before the season had even started. Heath has been out for seven weeks with a back strain. She will travel to her home state of New Jersey this week, but most likely won't get any minutes. Dagny Brynjarsdottir also is suffering a back injury (sprain) but is expected to have some playing time this weekend. Katherine Reynolds and Mana Shim are also both injured, left groin strain and left foot sprain respectively.
Allie Long, midfielder, has scored 29 goals in her NWSL career. Long just below the 30 goal mark and when she reaches it she will become the third player in NWSL history to score 30 goals. However, Kerr is right behind her with 28 goals. It is possible during Saturday's match that they both break the 30 goal mark.
The match will be available to watch on the go90 app and website, and the NWSL website.