 Mexico head into Sunday's match against the United States riding a huge high of momentum. So far in CONCACAF World Cup Qualifying, Mexico has won nine games, drawn two, and has yet to taste defeat. During that span, the team has scored 23 goals while only allowing two. In the final round of qualifying, Mexico tops the Hex with 13 points at the halfway mark. Four years ago Mexico was a sinking shift that was on the verge of missing out on the World Cup when they were only able to collect 11 points out of 10 games.
Sunday the US visits Mexico in El Estadio Azteca, where the US has yet to win an official match there. The last time these two teams faced in November, Mexico were finally able to kill off the famous 'Dos A Cero' that had haunted El Tri for 17 years. A fitting 90th-minute header from captain and legend Rafa Marquez was the game winner.
While this isn't the same US as in November, now that Bruce Arena looks to have added some stability to the US, this also isn't the same Mexico. In November it looked possible that if Juan Carlos Osorio had a bad start to qualifying his time with Mexico would be ending. Now, Mexico looks like a team full of confidence and the team looks to have bought into Osorio's rotation policy with different players stepping up at different times.
Mexico missing some key players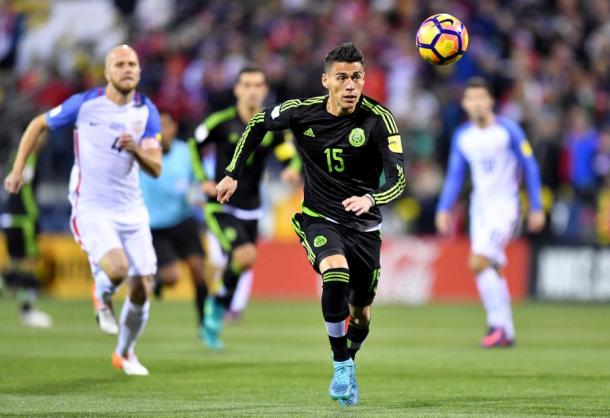 Mexico will be without some key players it looks like captains Andres Guardado and Rafa Marquez will miss the game with injuries and lack match fitness. Also missing will be Carlos Salcedo, who limped off the pitch Thursday night and Miguel Layun from injury as well. Because of all of these injuries, there's a good chance you see Mexico go to a three man backline with Hector Moreno, Diego Reyes and either Oswaldo Alanis or Nestor Araujo. It's also possible that Osorio goes with all four players make either push Reyes to a defensive midfield position or move Alanis and Araujo farther out wide as more conservative wideouts as he's done in the past against at Honduras.
Keys for Mexico
For Mexico to take three points and hope to take one step closer to Russia 2018, they must minimize careless fouls set piece opportunities for the US. Look for Mexico to have the majority of the run of play and because of that, they must not allow the US a possible goal on a fluke corner kick or free kick in which they catch Mexico off guard on the counter. Also, it's possible that Mexico plays with five in the midfield and outnumber the US the middle of the park and does so without an out and out defensive midfielder. Instead, like Osorio has done in the past, the responsible of tracking back will be shared between the likes of Héctor Herrera, and Jonathan Dos Santos. The idea of this is to force the US to have Christian Pulisic to drop back farther than he wants and help out on the defensive end, which will then force Dempsey to drop back as well. Leaving Mexico less exposed on counter attacks while also being able to keep the ball deep in the US territory.
A sold-out Azteca stadium awaits this battle of bitter rivals, as El Tri look to continue their match to Russia 2018 and put a stamp on who rules CONCACAF.