 Brazilian head coach Emily Lima has named the 20 person squad that will face Germany in an international friendly in Sandhausen, Germany on July 4. Featured on the roster are seven players who currently play in the NWSL.
The seven players represent a total of three teams in the NWSL. Making the squad are Andressinha and Bruna Benites from the Houston Dash, Rosana and Debinha from the North Carolina Courage, and Monica, Camila, and Marta from the Orlando Pride.
As the match does not fall on a FIFA official date, some players may not have been released by their clubs. As it stands, the roster includes two uncapped players, both 22 years of age: Ludmila, a striker with the club São José in Brazil, and Kamilla, who also plays in the Brazilian league for Iranduba. The roster is loaded with young players. 13 of the players on the roster have 50 or fewer appearances for their country, and 10 are not more than 25 years old. With 118 appearances for her country, Marta is the most capped player on the roster, with Rosana not far behind at 113.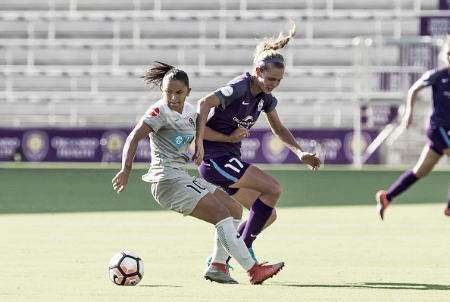 Brazil are coming off a 1-0 victory over Iceland on June 13. Orlando Pride striker Marta bagged the game-winning goal, bringing her goal total to 108, the most of any female Brazilian player in history. The next closest player is North Carolina Courage midfielder Debinha, who has 21 goals in 56 caps.
This will be the 12th time that Brazil has faced Germany. Brazil have struggled against Germany in the past. In twelve meetings all-time Brazil have a record of 1 loss, 4 losses, and 6 defeats and have been outscored by 13 goals. Although the two sides have not met recently, they have played some decisive games in the past, most notably a 2-0 win by Germany in the final of the 2007 Women's World Cup.
The game will be played at 12:45 GMT in Sandhausen, Germany.