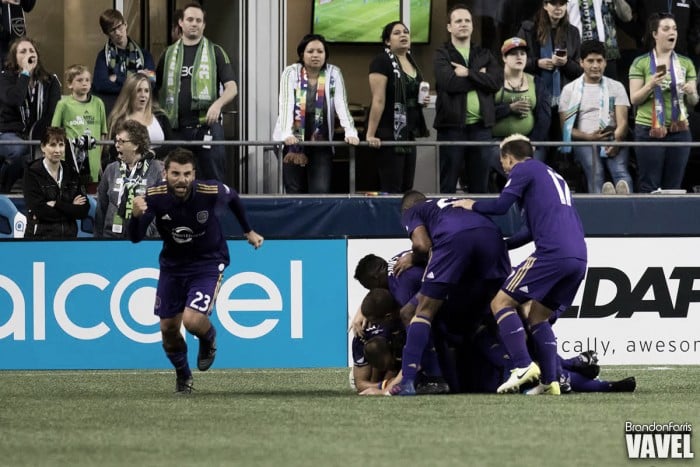 The Seattle Sounders thought that they were going to come away with all three points Wednesday night. Orlando City SC had other ideas.
In the fourth minute of stoppage time, Scott Sutter nodded home Kaka's free kick at the death. That goal made it 1-1, as the visitors managed to escape CenturyLink Field with a point.
Orlando's Carlos Rivas forced Stefan Frei to make a fantastic save in the fifth minute. Kaka sent the Colombian sprinting in behind the Sounders defense. Then, Rivas poked the ball at goal where Frei had to make a kick save to keep the match level at one.
Sounders, Bruin open scoring
With one swift move, the Sounders broke the scoring open. Nicolas Lodeiro, who played a key role in the goal, sent Will Bruin on goal with an excellent through ball. Bruin then did the rest, beating Joe Bendik with a smooth finish.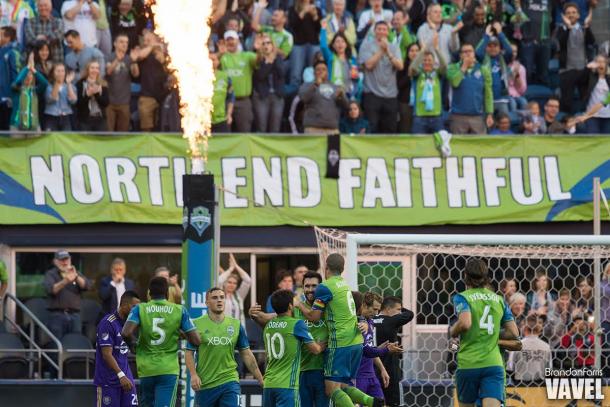 Proceedings began to slow down following the goal with Seattle trying to limit Orlando's chances while continuing to create for themselves. Lodeiro attempted to double Seattle's lead with 10 minutes remaining until halftime, but his shot was straight at Joe Bendik.
Seattle took the halftime lead and looked on the verge of finding a second goal, although it never came. And that paid huge dividends late in the night.
One of the best moves of the night for the Sounders happened in the 73rd minute. Dempsey slipped Bruin in between a couple of Orlando defenders with a perfectly weighted ball. However, Bruin's touches forced Lodeiro to take a poor effort on goal.
Kaka helps Orlando City level late
For 90-plus minutes, it looked as if Orlando were going to come away with nothing in this match. They showed flashes of attacking intent, but nothing fully clicked.
That was until Victor Giro went down a bit easy following a tug from Roman Torres near the 18-yard box on the left side. The Brazilian sensation, Kaka, stood over the ensuing free kick and whipped a perfect ball to the near post. Scott Sutter nodded it past Frei to level the match with the last action of the night.
The Sounders were definitely the better of the two sides on this night, but one play changes the complexion of the match and we saw that. They will have to forget about that mistake and look forward
Coming up
Seattle takes on their most bitter rivals Sunday night when they face off against the Portland Timbers in the Cascadia Cup.
Orlando City, meanwhile, will continue their road trip as they take on the Chicago Fire Saturday night.