 For the second weekend in a rowNorth Carolina Courage's depth was the difference against a Boston Breakers side hamstrung by injury. Ashley Hatch got her third goal of the NWSL season, and her fourth in four games including international matches to give the Courage a 1-0 victory at Jordan Field in Boston. The first-place Courage are still perfect against Boston, moving to 3-0-0 all-time against the Breakers with Saturday's win.
New Netminder, No Problem
Boston have been particularly waylaid by injury in the past two weeks, as goalkeeper Abby Smith was added to the injured starters pile that still includes Rose Lavelle and Allysha Chapman. Though the Breakers had signed Libby Stout as a replacement, Smith's injury gave 2017 Draft pick Sammy Jo Prudhomme the chance to make her professional debut Saturday against the league-leaders.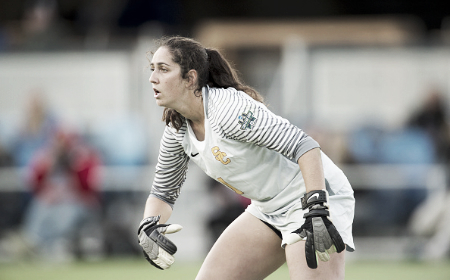 Prudhomme proved up to the task when she was called into action twice in quick succession in the 11th minute. The young goalkeeper showed signs of nerves afterwards when she parried down a ball she should have caught, but otherwise settled into the game and kept the Breakers secure in the back. She produced a first-class save in the 40th minute, stepping up and diving to her right to deny an open shot by Kristen Hamilton that looked sure to give Carolina the lead.
The Breakers were less successful further up the pitch. After an aggressive opening 10 minutes, Boston mostly dropped back and allowed Morgan Andrews to quarterback, although her forward options were limited. Adriana Leon, usually a reliable spark, had a quieter game as she and Emilie Haavi struggled to provide dangerous opportunities.
North Carolina's tandem act
Any concerns that losing both Lynn Williams and Jessica McDonald would slow the first-place Courage have been firmly put to bed. For the second game in a row Ashley Hatch and Kristen Hamilton started in their places, and for the second game in a row their combination proved a winning formula. Hamilton helped spring their breakthrough goal in the 44th minute with a one-two with Sam Mewis, who played Hatch in between the Boston center-backs. Hatch coolly finished her first-time shot into the far side netting.
Hatch was the Courage's dominant player for the first-half and possibly their most active, certainly no easy feat given the caliber of athletes around her. She and Hamilton harangued Megan Oyster and Christen Westphal, exposing gaps between the two that only encouraged Carolina's direct, attacking style.
The Courage did have to withstand some pressure in extra time of the second half when the fresh legs of Boston's substitutes, Ifeoma Unomonu and Midge Purce, created a late spell of pressure. North Carolina goalkeeper Katelyn Rowland, who has filled in for the injured Sabrina D'Angelo, made a fine stop on a late shot by Purce to preserve her third shutout of the season.
Carolina's bench is winning them games, and a good thing too as their roster is down to just 18 players, some in varying stages of injury. On the plus side, one of those injured players, Elizabeth Eddy, subbed in in the 86th minute for her third appearance of the year and looked immediately comfortable. The Courage have several open roster spots and international slots available and will probably do some mid-week shopping as the season enters the hottest summer months.
Boston Breakers travel to Houston next week to take on the Houston Dash at 9 pm ET on Wednesday, June 28. The Courage have longer to rest. Their next game is Saturday, July 1 when they host Sky Blue FC. That game will be televised on Lifetime beginning at 3:30 pm ET.