 It isn't often that Real Salt Lake hosts the giants of Europe, but on a muggy Monday night in Sandy, the Claret-and-Cobalt welcomed Manchester United to Rio Tinto Stadium for a friendly, with the visitors claiming the 2-1 victory. After a pre-match storm cleared, the home side claimed an early first-half lead before conceding twice before halftime, with the Red Devils seeing out the win with a sturdy (albeit short-handed) second half.
Intriguing First Half Gives United a Cushion
The chances came early and often for both sides, but Real Salt Lake drew first blood in the 23rd minute. After seeing a number of chances go begging, the Utah side finally broke through on a quick counterattack that concluded with recent acquisition Jefferson Savarino running at the Manchester back four before slotting a pass between Daley Blind and Phil Jones. The ball nestled onto the foot of a sprinting Luis Silva, who calmly lifted it over a sprawling Joel Pereira.
But RSL's goal awakened United, and the equalizer came only six minutes later. After a spell of possession, Manchester pierced the RSL defense, with former Toffee Romelu Lukaku providing deft hold up play before laying the ball off to Jesse Lingard, whose one-touch pass to Henrikh Mkhitaryan completely freed up the Armenian for an uncontested look at goal from the top of the 18-yard box. Mkhitaryan's shot scuffed off the turf, but with enough power to find the back of the net, with Nick Rimando's diving save attempt to his left never truly came close.
Two minutes after Real Salt Lake made a wholesale lineup change in the 36th minute (subbing in a squad composed primarily of players from Real Monarchs, RSL's United Soccer League affiliate), Manchester United seized the lead for good, and once more Lingard, Mkhitaryan, and Lukaku played a role. Lingard's first-time pass from midfield freed Mkhitaryan up the right flank, and Mkhitaryan's pinpoint one-touch through ball found Lukaku between RSL's central defense. The Belgian calmly steered the ball around backup goalkeeper Lalo Fernandez, then fired back across goal for the 2-1 lead.
A workmanlike second half secured the win for the English powerhouse.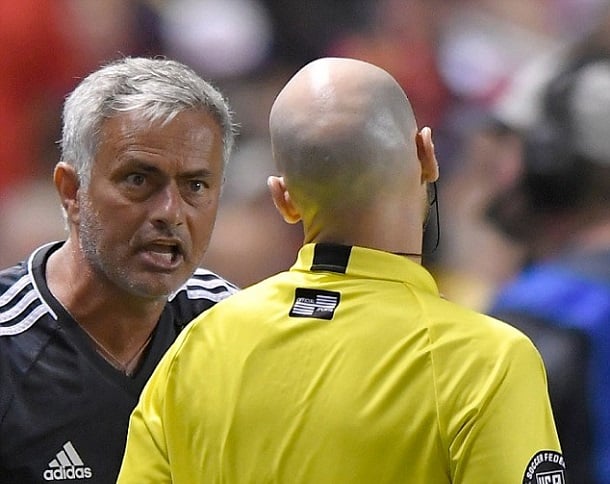 A Not-So-Friendly Red Card
In the 66th minute, Manchester United defender Antonio Valencia kicked through RSL homegrown product Sebastian Saucedo. The foul was late and far from the ball, but referee Allen Chapman first looked willing to let the offense off without a card before showing Valencia a red card almost a full two minutes later. While red cards are generally unexpected in friendlies, the sending off was almost certainly deserved in Valencia's case.
In his post-match comments, Manchester United manager Jose Mourinho suggested that the two-minute delay occurred because Chapman had offered Mourinho the chance to sub Valencia off, and Mourinho had declined. However, Mourinho then appeared to excuse Valencia's red card, suggesting that Saucedo deserved the foul.
"I don't agree with the card because Salcedo [sic]…was really aggressive during all of the second half, what happened to Mata, and some other actions where he was a bit dangerous," Mourinho said, referencing an injury to midfielder Juan Mata, who entered the game after halftime only to be substituted off in the 59th minute with an ankle injury. Mata appeared to sustain his injury in the 56th minute on a foul committed by RSL defender Danilo Acosta, and not Saucedo.
RSL gaffer Mike Petke cut a conciliatory route regarding Valencia's foul and Mourinho's opinion.
"If [Mourinho] feels that way he's got a hell of a lot more experience than me, he has won a hell of a lot more than me. So he is probably right but I am a little irrational, I don't think there was any intent with the Mata thing, I think that was a red card offense with what happened with Valencia," Petke said. "With all due respect to my mentor and my favorite manager."
Up Next
Real Salt Lake has a quick turnaround, traveling to Providence Park on Wednesday for a showdown with the Portland Timbers and finishing the week back at home against West-leading Sporting Kansas City.
Manchester United will continue its preseason tour with a daunting series of matchups against Manchester City (July 20), Real Madrid (July 23), and FC Barcelona (July 26) over a seven-day span.