 Megan Rapinoe, Mallory Pugh and Alex Morgan scored all three goals in a 3-0 US Women's National Team win over Japan to close the inaugural Tournament of Nations.
It was fairly comfortable night for the USA throughout the entirety of the match, with the scoring getting started inside the first 15 minutes.
The USWNT were putting pressure on Japan early, with a majority of the chances coming through Rapinoe.
USWNT strike first early
In the ninth minute, Rapinoe came close to getting the first goal the night when she came close to hitting the target from a tight angle.
A minute later, the 32-year-old came close again, but a deflection forced her shot to hit the side netting.
The veteran's presence and persistence paid off for Rapinoe in the 12th minute. Christen Press found a little gap in the Japanese defense and threaded a pass with precision to Rapinoe. She continued to make her run into the box before having the awareness to hold up play for a second longer. This forced a defender to slip, as Rapinoe then fired one into the net to break the deadlock.
Japan nearly found an equalizing goal four minutes after the half hour mark. Mina Tanaka seemingly drew the Japanese level, but Julie Ertz cleared the shot off the line. In the process of doing so, Ertz slammed her knee right up against the left post. She carried on into the second half before being forced to come out.
Two goals in the second half seals it
On the hour mark, the USA took a 2-0 lead after a poor giveaway from Japan. Taylor Smith pounced on the ball and immediately gave it up to Mallory Pugh. The young UCLA product drove at the right side of the Japanese defense before slotting one past Ayaka Yamashita for goal number two on the night.
Alex Morgan had not been in the match very long before she got on the scoresheet. Samantha Mewis slipped Smith in behind the Japanese defense in the 80th minute. Smith then drove a cross low across the box, where Morgan, aided by a deflection off a defender, made it 3-0, which clinched all three points.
What's next
The US Women's National Team will get back together again in the middle of September. There, they'll face New Zealand two times.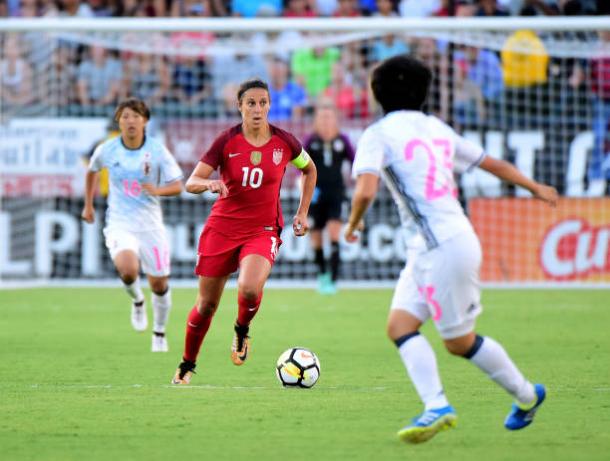 For Japan, they will have to get back to their form from the previous couple of years. They have not had a great 2017 and will hope that the younger players can take another step forward quickly. The next time Japan will take the pitch will be for a friendly with Switzerland in October in Nagano, Japan.