The Houston Dash will spend more time without the services of midfielder Morgan Brian after another injury setback while she was away with the United States Women's National Team recently. The Houston Chronicle broke the news earlier on Wednesday about Brian's continual struggles with a groin injury and how she will not be available for this weekend's National Women's Soccer League action for her club team.
The Dash feel confident in Brian's return to action soon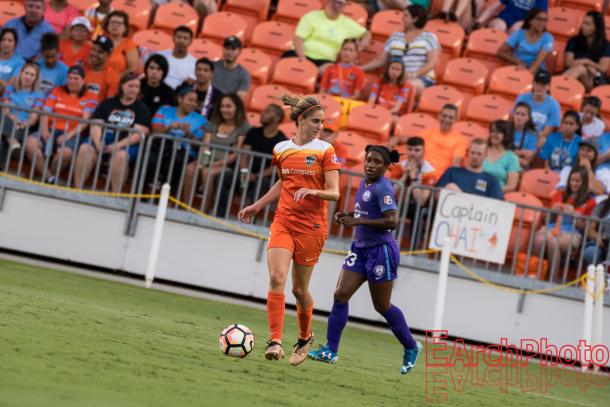 During the Tournament of Nations, Brian played 13 minutes in the first game, 45 minutes in the second and then 60 more in the last game. During that time period, her rehabilitation was stalled due to a minor issue with her groin in the game against Australia, which the USWNT ended up losing, but her play after that showed signs of improvement for Brian.
Upon being asked about Brian's status, interim head coach Omar Morales stated that there is "no timetable for Brian's return" to play for the Dash, only that they would assess her fitness "week to week" and go from there. Morales had already been in touch with the midfielder with regards to the injury and Brian said that she was "feeling better, feeling stronger" and that she was "taking time to really heal it [the injury] and focus on that specifically."
As for where the Dash stands as a team with Brian's availability, Morales went on to say that those with him in Houston currently were "focused on the next game and trying to get the team better" and until Brian is back to being 100%, the club felt that remaining in Los Angeles was the best decision for her health.
Brian's injury draws focus onto her national team availability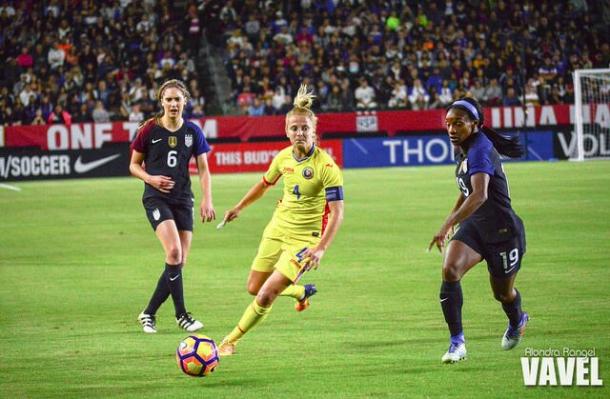 This is not the first time that Brian's groin injury has forced her to miss time with her NWSL due to aggravating it during national team duty. In 2016, Brian was selected to go the 2016 Rio Olympics with the team even though she was still not fully recovered from her injury and it affected her performance. Many observers felt that she should not have featured so heavily for the team because she was not up to full match fitness but Brian's importance to the USWNT midfield was needed and head coach Jill Ellis decided that she was recovered enough to start for the USWNT.
One year later, and the situation has not changed. Ellis has the pick of the entire NWSL to make her midfield selections from, that's without even going to the college ranks, yet for almost every USWNT game this year, Brian has been called up. Whether she has been fully fit or not, Ellis has brought her along to train and play with the others in an effort to maintain whatever her game plan may be at that point. Now, this may be due to contractual obligations as Brian is an allocated player but surely it would be more prudent for Brian to miss a game here and there so she can recover fully from an injury that is now almost synonymous with Brian's health these days. Continuously playing Brian with that injury is yet another doubt on how Ellis is managing the national team and brings up the question of why she won't at least take a look at another midfielder if only to give Brian a rest.
As most of the USWNT games this year have shown so far, there are bigger tactical problems with the team but the situation regarding Morgan Brian is still something that many do not seem to understand. Until Jill Ellis herself chooses to explain, we can only guess as to why there seems to be such a willingness to risk Brian's health over something that can easily be resolved with some rest and rehabilitation.
Quotes via Chron.com