Two teams from the lower half of the National Women's Soccer League meet in Week 17 in hopes of remaining in playoff contention. The Boston Breakers play host to the Houston Dash in a midweek matchup. The Breakers are coming off of a 2-2 draw against the Washington Spirit. The visitors are looking to improve on the road after losing 1-0 to FC Kansas City at home.
Breakers need outright win
The last four of the Boston Breakers' five matches have resulted in a draw and one loss. It isn't necessarily the worst way to go, but they need to start winning the full three points in matches if they want to even consider looking at a postseason run. They currently sit in second to last place and are a full ten points away from the last possible playoff position.
The Breakers will be without many of their key players this weekend due to injury. Defenders Allysha Chapman, Christen Westphal, and Brooke Elby are all out with injury, and midfielder Rose Lavelle is still out with her injury from June. It will be important for Boston to fill in those gaps in their defense. Although Houston themselves are missing key attackers, they still have the likes of Rachel Daly and Nichelle Prince leading the front line. Keeping them away from Boston's defensive third will be huge in stealing a point - even three - at home from Houston.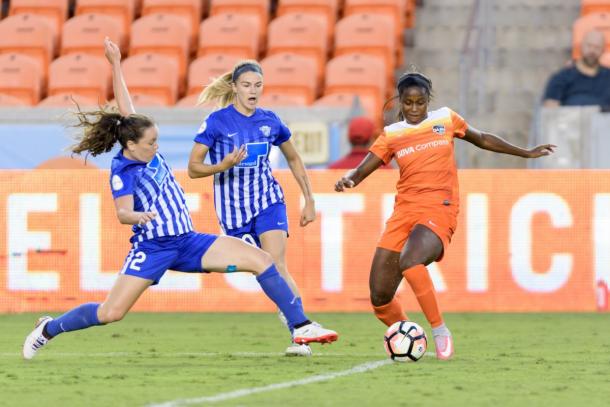 Houston, we might have a problem
After the international break, it seems like the Dash haven't been able to pick up where they left off. They were on a six game unbeaten streak, but have lost their last two contests. Against the Portland Thorns and FC Kansas City. Although they're somewhat still in the middle of the NWSL table, they need to pick back up and earns some points in the next few weeks to remain in playoff contention.
Unfortunately for the Dash, they will be without USWNT midfielder Carli Lloyd due to a left ankle sprain from their last match. With both Lloyd and Kealia Ohai out - both vital parts of the Dash attack - it'll be interesting to see how Houston responds. The likes of Daly and Prince, along with others, will be more important than ever now, especially as they enter the thick of their 2017 NWSL campaign. A win in Boston can put the Dash back on track in the playoff race, and although big names are missing, they still have the personnel to get the job done. This midweek game could really get things going once again.
The Boston Breakers host the Houston Dash at Jordan Field this Wednesday. Kickoff is scheduled for 7:30 PM Eastern Time and will be streamed on the go90 app.