The National Women's Soccer League is nearing its final weeks of regular season play, and playoff spots are still very much up for grabs. The Chicago Red Stars travel to the east coast to face bottom of the table Washington Spirit. The two teams were recently involved in a trade with Kristie Mewis going to Chicago. Shortly after, the Spirit picked up the newly waived ex-Red Stars rookie Morgan Proffitt.
Chicago securing their post season
Currently sitting in third place, the Chicago Red Stars are looking good as the season comes to an end. Although they didn't earn the result against the Seattle Reign last week, they're still playoff contenders. Picking up three points on the road this weekend will be huge for them, further securing themselves a spot in the playoffs as well as possibly earning a home playoff match.
Their last three home matches have resulted in three consecutive losses for the Red Stars. A trip to the east might be exactly what they need in order to get back into their typical rhythm of success - especially considering they have been unbeaten in their last four games on the road. With an already talented and stacked attack on his roster, head coach Rory Dames will look to newcomer Mewis to help them enter post season. Mewis has 13 goals and six assists in the league over the years, and will look to contribute to the score sheet somehow against her former club.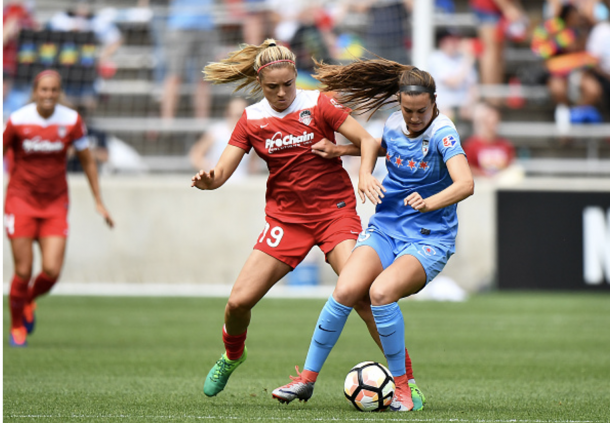 Spirit handling their woes
A postseason is quite far from reach - but not completely impossible - for the struggling Washington Spirit. A team who, this time last year, was in the running for the NWSL Shield now sits at the bottom of the table. They haven't earned a win in their last three games and have only won one of their past eight matches. In that time, the Spirit only managed to earn five points. Not all hope is lost for Saturday though, as the Spirit have been unbeaten in their last four home matches.
Head coach Jim Gabarra adds rookie Proffitt to his offense, hoping to pull some points together before season comes to an end. Proffitt made seven appearances for the Chicago Red Stars this season, starting in one match and totaling 111 for her rookie season so far. With this latest addition, along with the likes of players such as Mallory Pugh, Arielle Ship, and Cheyna Williams, the Spirit hope to find the back of the net and earn three points at home.
The Washington Spirit hosts the Chicago Red Stars on Saturday evening at the Maryland SoccerPlex. Kickoff is scheduled for 7:30 PM Eastern Time and will be broadcasted on the go90 app.