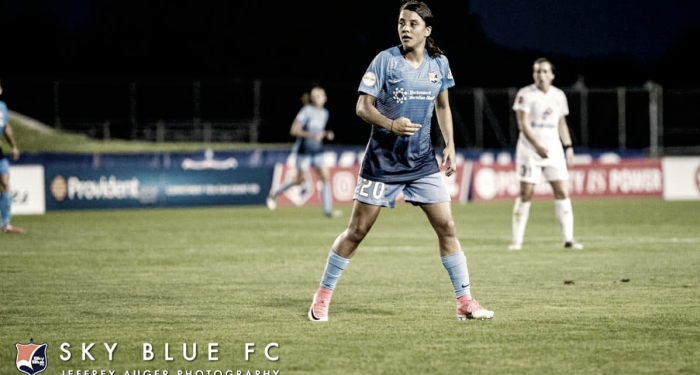 Sam Kerr and Sky Blue FC are home in Week 18 to face Adriana Leon the Boston Breakers.
What's at stake
Sky Blue has to win to keep their playoff hopes alive, they currently in sixth place one point behind the Seattle Reign; they need all three points in order to keep their playoff run alive.
The situation is different for Boston who currently sit in ninth place. The Breakers have felt the absence of midfielder Rose Lavelle, who could see the pitch for the first time in more than two months. The game is set for Saturday at 7 p.m. at Yurcak Field in New Jersey.
No other team does a comeback like Sky Blue. Kerr's four goal performance plus a little help from Maya Hayes was enough to get three points after going down 3-0 in the first half. The New Jersey team became the first team to pull a win from a three goal deficit, also the first team to pull a win after trailing at the end of regulation time. It was their first win in four games, after giving up 18 goals in those last four games.
Sky Blue is a squad dealing with injuries. Just a day before last week's game against Seattle, their former captain Christie Pearce announced that her season is over due to accumulated injuries. Pearce stated that she was getting old and after a documented concussion this season she was going to step back from her position with Sky Blue. Leah Galton and Erin Simon are also unavailable for tomorrow's match against the Breakers. Kelley O'Hara, Tasha Kai, and Raquel Rodriguez are all listed as questionable for tomorrow's match. Rodriguez suffered a hamstring injury during last week's match but was able to walk off the field by herself.
Boston is coming off a 2-1 loss to the Orlando Pride. The lone goal scorer in that match for the Breakers was Amanda Da Costa, in her last game as a professional soccer player. Da Costa announced her retirement last week and then played her last game. The Breakers are seven games without a win and have not won in their last eleven matches on the road.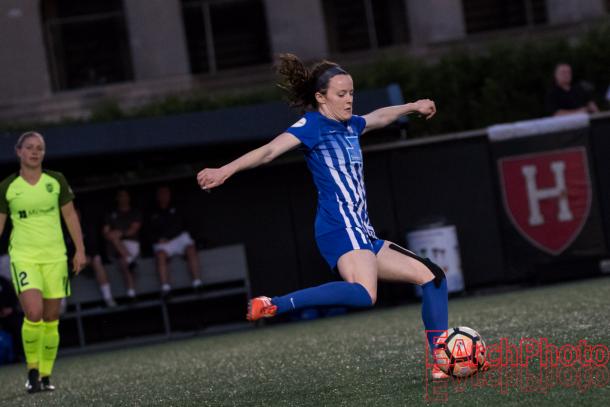 Lavelle could play
The number one draft pick of 2017, Rose Lavelle, could see her first minutes in weeks during the match in New Jersey. Lavelle has been out since the middle of June with a hamstring injury, suffered while playing for the U.S. Women's National Team overseas. The recovery time was supposed to be four to six week for Lavelle's strained left hamstring. However, she has been out for eleven weeks now. She has not seen any minutes for Boston since the first week of June. Lavelle is listed as questionable for tomorrow's match. It is likely Lavelle will only briefly see the pitch tomorrow, if at all.