After having to postpone their match against the North Carolina Courage last weekend, the Houston Dash enter Week 19 of NWSL play looking to grab some points against the Seattle Reign. Due to Hurricane/Tropical Storm Harvey and its effect on Houston, the game will be played in Frisco, Texas. Both teams are looking for the full result this weekend, especially as playoffs inch closer.
Houston making moves, but will it be enough?
Major moves have been made throughout the league this week with Houston's moves being the biggest of them all. USWNT midfielder Morgan Brian was traded to the Chicago Red Stars in exchange for Kristie Mewis. Brian had become somewhat of a staple for the Dash despite missing time over the past three seasons due to national team duties and injury. With such a big piece for Houston gone, it will be interesting to see how well they can adjust to this new change so quickly. Another big move from Houston includes trading Australian goalkeeper Lydia Williams to the Seattle Reign. Williams has been with the club for a few seasons and has been the starting goalkeeper until recently, when Jane Campbell earned her starting position. Lastly, the Dash signed Meghan Cox off waivers.
There have been quite a few shining moments throughout this season for Houston, but it never seems like enough for the southern club. After their impressive six game unbeaten streak, the Dash have struggled to earn important points for themselves. They are currently sitting at eighth place in standings, and although it's incredibly difficult, playoffs isn't out of their future just yet. With all this considered, they have to win this game and the rest - along with considering the results of other matches - if they want to sneak into post-season.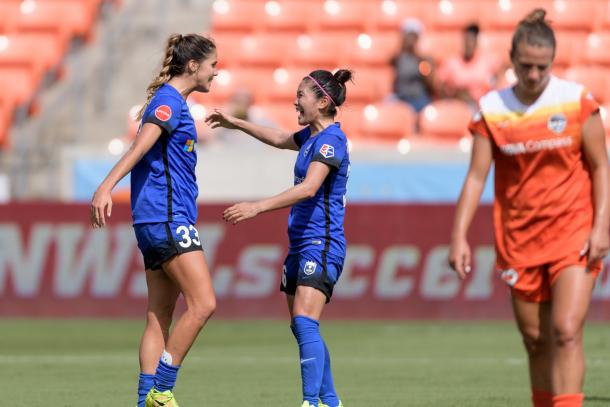 Seattle making the leap
Seattle has also been a part of the rosters moves this week. Aside from adding Lydia Williams to their roster, they also traded Lindsay Elston's rights to the Boston Breakers. They enter this weekend looking to inch closer to players as they are a mere five points away from the final playoff spot.
Seattle will look to maintain their perfect record against the Dash, having won every single meeting between the two teams since 2014. This is the first of two road trips for the club, and they will look to steal a total of six points on the road. They will look to rookie forward Katie Johnson to make an impact; Johnson has scored in both of Seattle's previous meetings with Houston this season and leads the team in away goals.
The Houston Dash and Seattle Reign face off on Sunday, September 3 at Toyota Stadium. Kickoff is scheduled for 7 PM Eastern Time and will be streamed on the go90 app or the NWSL website.