The USWNT will finish off their September friendlies facing New Zealand for the second time in five days. On Friday the USWNT faced New Zealand and picked up a 3-1 win, with a brace from Julie Ertz and a late goal from Alex Morgan. The USWNT celebrated Kelley O'Hara's 100th cap and Sofia Huerta's first cap. The last time these two met before the match on September 15th was at the 2016 Rio Olympics, the USWNT won that match 2-0. The second game between the USWNT and New Zealand can be watched on Fox Sports 1 at 7:30 ET.
Homecoming
Rookie midfielder, Rose Lavelle, could get the chance to play in front of her home crowd on Tuesday. University of Wisconsin alumni grew up in Cincinnati, Ohio. Lavelle was named to the September roster, despite just coming back into play for the Boston Breakers. During the USWNT trip to Scandinavia in June, Lavelle suffered a hamstring injury. The last time the USWNT played in Cincinnati was nine years ago in 2008. Nippert Stadium will host the USWNT for the first time ever on Tuesday night. Lavelle did not dress for Friday's match, but if she does tonight she could be the third player on this trip to play in their home states. On Friday forward, Mallory Pugh, and midfielder, Lindsay Horan, both started in their home state of Colorado.
Tobin Heath also did not dress for Friday's match in Commerce City, Colorado. Heath has not seen game action for club or for country since the SheBelieves Cup in March. Heath was diagnosed with a back strain, but specifics were never given by her club, the Portland Thorns. The Thorns have suggested that Heath could be ready for NWSL playoffs. In U.S. Soccer's recent video on Heath, she said she was happy to be back in camp with the team and happy to be playing again after having to remove herself from the game to focus on rehabilitation.
Milestones for the Football Ferns
Erin Nayler, goalkeeper for New Zealand, will earn her 50th cap on Tuesday at just 25 years of age. Two of her teammates reached their 100th cap on Friday night, Annalie Longo and Betsy Hassett. The Ferns have not played together in six months, yet managed to contain the USWNT to a 3-1 scoreline, partially in thanks to Nayler.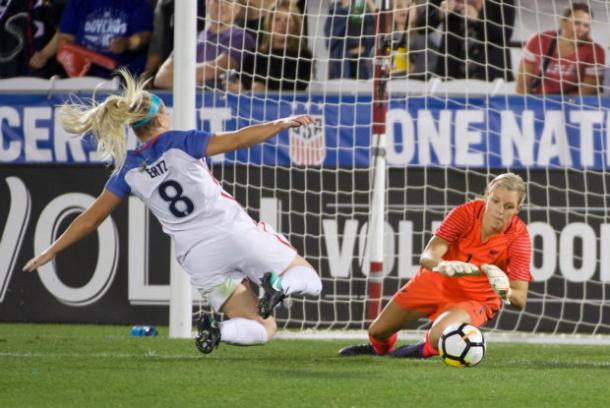 First cap, first assist
Friday was a night that Sofia Huerta will never forget. After many years of hard work and one FIFA association switch later, Huerta fulfilled her childhood dream of playing with the USWNT. Huerta's FIFA association was with Mexico after her dual-citizenship allowed her to play there. On Thursday it was announced that FIFA approved Huerta's one-time switch, and on Friday Huerta got her first cap with the USWNT. Huerta was subbed in the 51st minute as an outside back, a new position for the Chicago Red Stars midfielder/forward. In the 79th minute, Huerta found herself up the field sending in a cross to Alex Morgan. Morgan capitalized on the great ball and put it past the New Zealand goalie.