In the last game for the Boston Breakers, they hosted Sky Blue FC to conclude the 2017 NWSL season. Sky Blue and Sam Kerr took a road trip up the east coast where Kerr broke the goals scored in a single season. That was not before Boston put up two early goals and a fight for the rest of the game.
Boston early goals, Sam Kerr breaks record
Sky Blue had early chances with Sam Kerr having two shots on goal, neither of which gave her her 17th goal of the season. After those two first real chances from Kerr, the momentum switched in favor of Natasha Dowie and the Breakers. Dowie netted her first ever brace, with two goals in three minutes.
Dowie's first goal came off a cross by Margaret Purce in the 25th minute. In the 28th minute Brooke Elby crossed a ball in and again Dowie was able to get on the end of it to put Boston up 2-0. Not long after did Sam Kerr answer back for Sky Blue in the 34th minute. Off of a cross from Maya Hayes, Kerr scored the record-breaking 17th goal of the season. Kerr broke Kim Little's 16 goal season record from 2014.
Call it a comeback for Sky Blue
The second half of Boston vs Sky Blue had no shortage of excitement. The last 25 minutes of the games saw four goals. Madison Tiernan equalized for Sky Blue in the 76th minutes, assisted by Kelley O'Hara. Defender Erica Skroski gave Sky Blue the lead just two minutes later off of a corner kick from Taylor Lytle. The go-ahead goal was Skroski's first of the season. Unfortunately for Sky Blue, the Breakers regained the lead in the 85th minute off of an own goal by goalkeeper, Caroline Casey.
Tonight's match was Casey's second of the year, she recorded two saves. If anyone could pull a win out of their final minutes of the fifth NWSL season, it was Sky Blue. Leah Galton who has missed multiple games was finally cleared to play for one last go at it with Sky Blue. She entered in the 81st minute and in the 87th minute sent in a cross, that O'Hara would hammer into the back of the net from outside the six to win the game.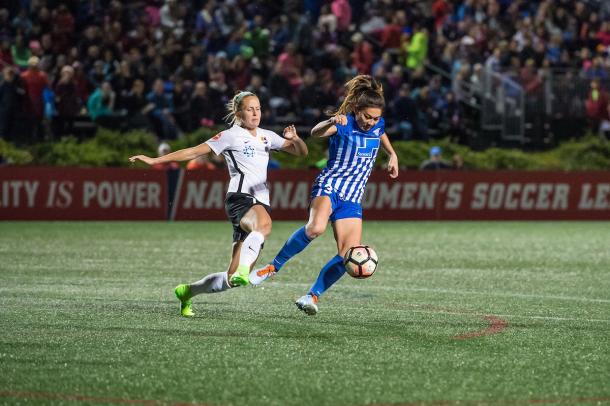 End of the season
Sky Blue ends their season in sixth place with 33 points and a record of 10-11-3. The Boston Breakers will end their season in ninth place with 19 points and a record of 4-13-7. Boston finished last season in tenth place and had the number one NWSL College Draft pick, Rose Lavelle. The Breakers suffered this season without Lavelle who suffered an injury in the beginning of June.
Lavelle was not able to put in 90 minutes after sustaining that injury. Sky Blue also suffered from multiple players being injured for long periods of time like Tasha Kai, Leah Galton, and Erin Simon. Christie Pearce was the captain of Sky Blue until she announced mid-season that her season was over due to accumulative injuries. Sky Blue also let in 51 goals this season because they lacked experience in their defense.