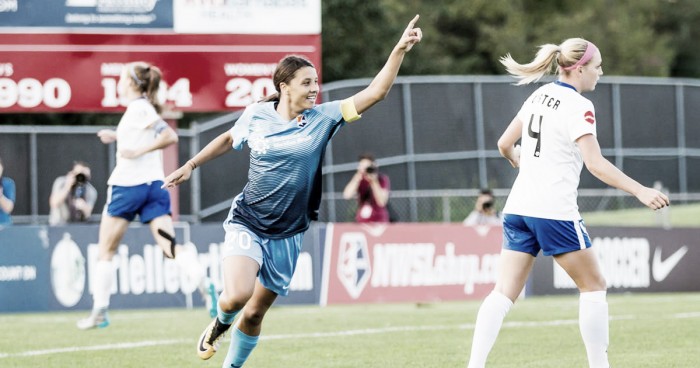 In Sky Blue FC's thrilling 4-3 win over the Boston Breakers for their 2017 National Women's Soccer League regular season finale, forward Sam Kerr scored her record-breaking 17th goal of the season. Kerr now holds the single season scoring record and has earned the 2017 Golden Boot award.
The Australian international scored 17 goals in 22 appearances for her club despite not scoring her first goal of the season until May 13, five matches into the season. Her highlights include three multiple-goal matches to help Sky Blue make miraculous come backs. Kerr scored a brace, a hat-trick, and an incredible four-goal game to help her team take three points from the Seattle Reign.
The 24-year-old is the first player in the league to score two hat tricks in a single season, and she helped Sky Blue become the first team to come back from a 3-0 deficit.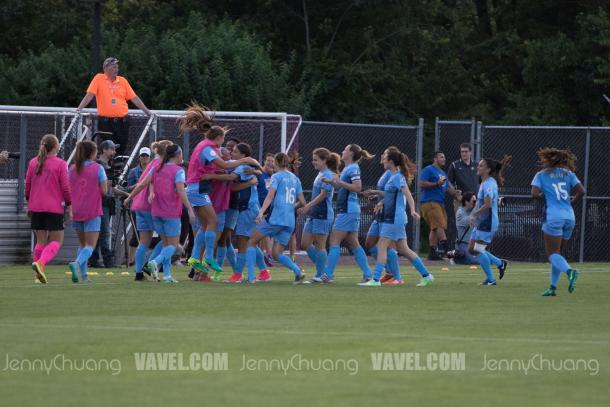 Outside of just the 2017 season, Kerr became the all-time leading goal-scorer in the NWSL with 43 career goals from her time in the league. She initially broke the record on July 8, when she scored her 35th goal to put herself on top of the all-time list. By her impressive four-goal game against the Reign, Kerr scored 40 goals.
The forward is the first in the league to reach a high of 50 career points, and she has already suprassed it as the regular season comes to an end. As of Monday, October 2, Kerr has 58 total career points, with 21 of them coming in 2017 from her 17 goals and four assists on the season.
Additional Statistics of Kerr's scoring record
Kerr's 17 goals made up 40.5% of Sky Blue's overall scoring output this season

Kerr converted 31.4% of her 54 shots on goal

Kerr scored at a rate of a goal every 112.8 minutes of her season

Kerr scored against eight of the nine other teams in the league, the only team missing is the Washington Spirit

Kerr scored five game-winning goals

Kerr scored five equalizers

Kerr scored 13 of her goals with her right foot and 4 with her head