 The Houston Dash announced yesterday that Midfielder Andressinha and defender Bruna Benites will go on loan to the Brazilian club Esporte Clube Iranduba da Amazônia.They are the only players from the Dash (or the league) to go to Brazil to play during the offseason.
Andressinha will join the club through December for their Campeonato Amazonense de Futebol Feminino campaign. Andressinha has been with the Dash since being signed in late July 2015. The Brazilian appeared 38 times for the Dash, starting in 35 of those, logging 3,122 minutes while scoring 3 goals. At the international level, Andressinha has 21 caps and 7 goals with the Brazilian National Team. The Brazilian scored her first NWSL goal during the 2016 NWSL season against the Orlando Pride on April 23rd. She also scored a brace against the USA in the recent Tournament of Nations.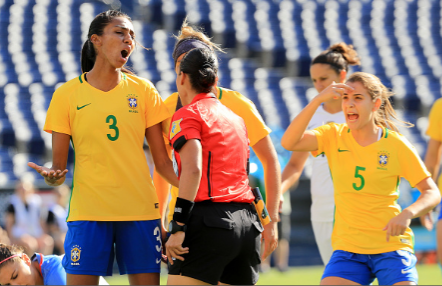 Bruna Benites will be joining the club after the conclusion of the Four Nations Cup. Benites was signed by the Dash in November of last year.Previously she played in Norway with Avaldsnes IL, she had 2 goals in the 6 appearances that she made. With the Dash, she made 11 appearances, while starting six of those and totaling 634 minutes of play.
For her national team, the defender has made 45 appearances for Brazil throughout her career and has six international goals to her name. The most recent one against the United States in the Tournament of Nations was a thriller as the USA came back to win 4-3 against Brazil.
Both are expected to be back in time for the 2018 NWSL preseason where they can be expected to help the Dash try to win an NWSL championship. Perhaps they can be the ones that create a spark that can spark the Dash's offense and defense. It'll be interesting to see how they do during their time in the offseason and how well they do with the Dash in 2018.