 Defender Christen Westphal has agreed to a contract to play with the Boston Breakers during the 2018 National Women's Soccer League season. The terms of the contract have not been disclosed, but all NWSL contracts are one-year deals with a second-year team option. The current minimum salary for the league is $15,000 per season, but that is subject to change for the 2018 season.
Westphal, now 24 years old, was drafted by the Breakers third overall in the 2016 NWSL College Draft. During her rookie season, Westphal scored one goal and played in 13 games while starting seven. She accrued a total of 579 minutes during her first season in the league. The 2017 season was going well, with Westphal earning 13 starts in 13 games played and 1129 total minutes, but an injury in the 71st minute of the July 15th game against Seattle Reign FC would end her season. She earned her only point of the season in that game with an assist in the 43rd minute to forward Adriana Leon. The right-foot nerve injury would linger throughout the season and she would not take the field again. The Breakers did not make any mention of her progress towards full health in their statement about her contract signing.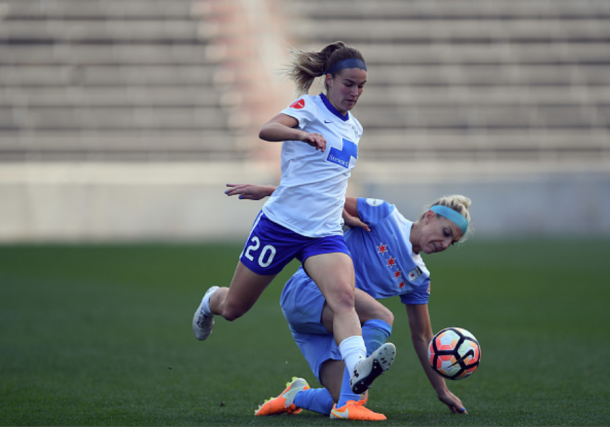 The Breakers finished the season ninth in the league with 19 points and a record of 4W-13L-7D. The team went 1-7-2 after Westphal's injury, which occurred just after rookie and first-overall pick in the 2017 NWSL draft, Rose Lavelle, was injured during United States Women's National Team play in Scandinavia. The Breakers are the only team from the original eight NWSL teams that have not made the playoffs since the league was founded for the 2013 season. The only other team in the league that has not made an appearance in the playoffs is the Houston Dash, who were the first expansion team for the league in 2014 and are partnered with the Houston Dynamo.
The Breakers had four of the first nine picks in the 2017 NWSL draft, selecting midfielder Rose Lavelle first, midfielder Morgan Andrews third, forward Ifeoma Onumonu eighth, and forward Margaret Purce ninth. The Breakers are hoping that this infusion of talent along with the retention of young talents such as Christen Westphal will help them build a strong team for the future.