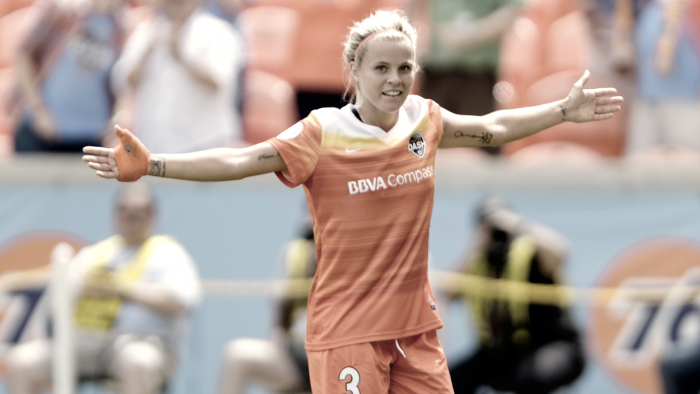 The Houston Dash have re-signed forward Rachel Daly. Daly is 25 years-old from England. The Dash signed Daly in 2016 after drafting her sixth overall. In her two seasons with the Dash, Daly has made 39 appearances. Daly has scored nine goals and tallied five assists.
In 2017 Daly scored five goals and had two assists. She also received two NWSL Goal of the Week honors. Daly started in 23 games for the Dash and played 2023 minutes in her second season. In her rookie season, Daly scored four goals and tallied three assists. Daly played in 16 games in her rookie season, logging 1186 minutes. Daly was named NWSL Player of the Week during her professional debut, a game where she scored the equalizer in a 3-1 win over the Chicago Red Stars.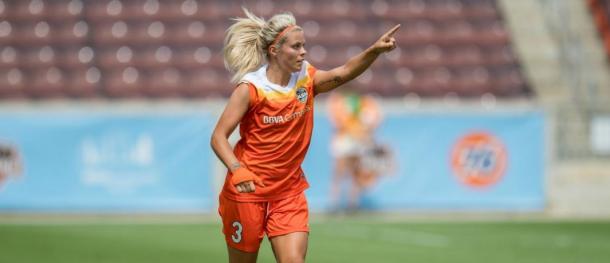 Daly's contract with Houston is a one year deal, with the club option for a second year. The Dash are waiting to hear back from nine players that played for Houston in 2016 that were offered contract extensions at the conclusion of the 2017 season. The players offered contracts were Polina, Amber Brooks, Sarah Hagen, Caity Heap, Bianca Henninger, Cami Levin, Kealia Ohai, Cami Privett and Cari Roccaro.
The Houston Dash finished in eighth place this season. The Dash posted 24 points with a record of seven wins, fourteen loses, and three draws.
Daly collapsed on the pitch during a Houston Dash home game in late May. In the final seconds of the Dash's match against the Seattle Reign, Daly suffered from heat illness. She collapsed because of extremely hot temperatures after Lifetime scheduled a game during the hottest hours of the day in Houston. Luckily for the Dash and for the NWSL, Daly was able to make a full recovery after a trip to the hospital.