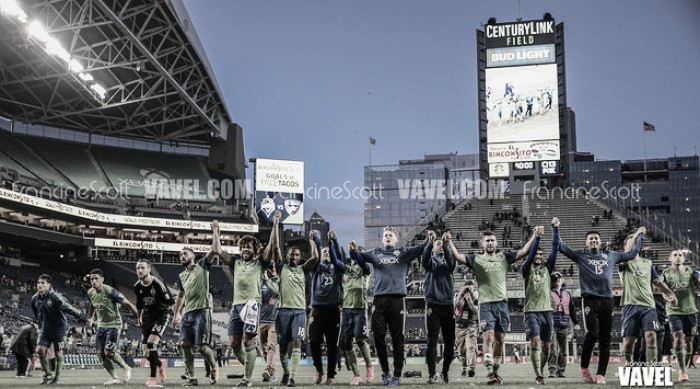 Seattle, WA -- On Tuesday, the Seattle Sounders announced that they have exercised 11 players contract options for the 2018 MLS season.
Just days after losing 2-0 to Toronto FC in the 2017 MLS Cup Final, the Sounders had to make roster decisions for the 2018 season. The club now has 22 players on their roster.
The following is the list of players that had their options picked up for 2018:
Goalkeepers: Stefan Frei and Tyler Miller (Miller was later selected by LAFC in Tuesday's MLS Expansion Draft)
Defenders: Tony Alfaro, Oniel Fisher, Chad Marshall and Román Torres
Midfielders: Jordy Delem, Aaron Kovar, Zach Mathers and Cristian Roldan
Forwards: Will Bruin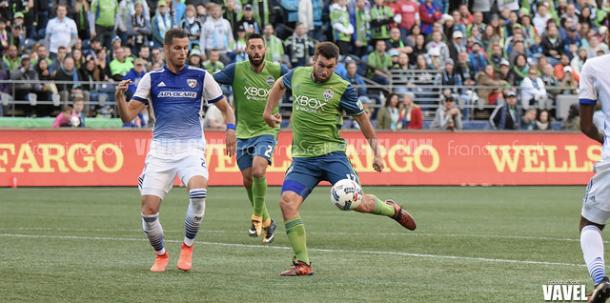 Players still under contract heading into next season is as follows:
Defenders: Kelvin Leerdam and Nouhou
Midfielders: Osvaldo Alonso, Nicolás Lodeiro, Victor Rodríguez, Harry Shipp, Gustav Svensson and Henry Wingo
Forwards: Seyi Adekoya, Clint Dempsey and Jordan Morris
As you can see, Seattle will be bringing back a majority of their players that helped them reach two straight MLS Cup Finals.
Options Declined
That also meant that there would be some players that did not have their options picked up for next season or are out of contract. Calum Mallace, who was acquired back in August in a trade with the Montreal Impact, was the lone player not to have his option picked up.
Goalkeeper Bryan Meredith, defenders Brad Evans and Joevin Jones and forward Lamar Neagle are all out of contract with the Sounders. Neagle and Evans are both eligible for MLS Free Agency. The club has until Thursday to re-sign Re-Entry Eligible players, including players out of contract, per MLS policy.
Sounders General Manager and President of Soccer Garth Lagerwey had this to say; "Although we fell short at the final hurdle in MLS Cup, our players had a successful 2017 season and we are proud of their efforts. These types of decisions are never easy, and every season it gets even harder to keep talented groups like this fully together."
Lagerwey continued; "That is why we're excited to bring back 22 players from our existing squad, which is particularly important with CONCACAF Champions League on the horizon in February. Our players report back in nearly a month's time, and we'll rely on this veteran group for the challenges that are ahead in international play and the 2018 MLS campaign."