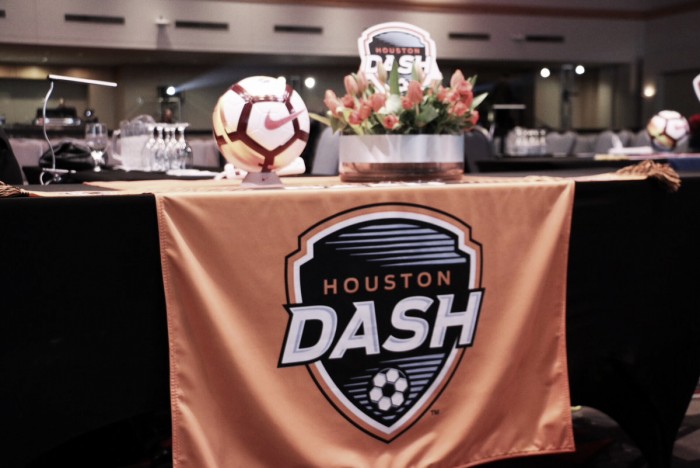 The Houston Dash had a very busy day at the 2018 NWSL College Draft. Although they did pick up some great talent from this year's draft class, their three-way trade with the Chicago Red Stars and Sky Blue FC early on during the event.
The Trade
Within the first few picks of the draft, the league announced that there was a three way trade between the earlier mentioned teams. The Houston Dash traded their No. 6 and 24 draft picks to the Chicago Red Stars in exchange for the No. 7 overall draft pick. In addition, the Dash handed over two Chicago and Chicago gave them one. The Red Stars then took part in a trade with Sky Blue FC: three players to Sky Blue in exchange for two players.
Names were not used due to league policy, but according to numerous sources we gathered Janine Beckie to Chicago, Carli Lloyd to going to Sky Blue, Nikki Stanton and Sam Kerr to Chicago, and Christen Press to Houston. Houston traded Lloyd and and Beckie to Chicago in exchange for Press, and then Chicago traded Beckie and another Sky Blue player in exchange for Stanton and Kerr.
Haley Hanson, University of Nebraska
The Houston Dash wasted no time looking for playmakers in the draft, selecting Haley Hanson from the University of Nebraska as their first pick of the draft. Hanson has played with the young national teams, most recently being in camp with the US U-23 Women's National Team. She record 16 goals and seven assists for Nebraska. She led her team this season with nine goals and second-most assists with four. With all the recent trades, Hanson could possibly fill the midfield roll much needed for the Houston Dash. She is also versatile and able to play at defender or forward.
Kimberly Keever, University of Washington
The Dash are bolstering their attack even further with the addition of Kimberly Keever. The University of Washington forward scored a career total of 22 goals for the Huskies and tallied four assists. As a consistent start, Keever was a constant attacking threat in college and will hopefully translate this to her professional career. It is possible she may also be moved to outside back, a position the Dash are possibly looking to fill.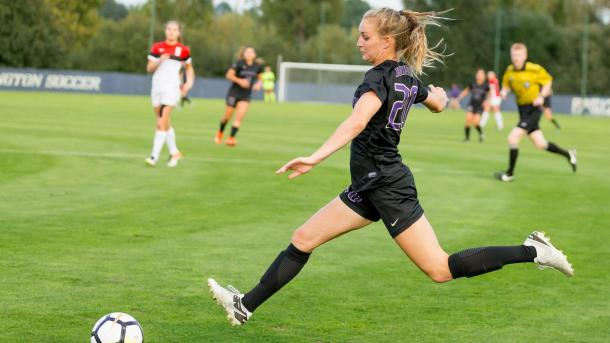 Veronica Latsko, University of Virginia
Coming from one of the toughest conferences in Division I women's soccer, Veronica Latsko is a force to be reckoned with. The University of Virginia forward helped her team make it to the Sweet Sixteen of the 2017 NCAA Tournament. She led her team this season with eight goals, five of them being game-winning. She also scored herself a hat trick this season in ACC-play.
Abby Elinsky, University of North Carolina
The Dash added another midfielder to their personnel in University of North Carolina midfielder Abby Elinsky. She transferred to North Carolina from the University of Illinois before playing three of her collegiate years with the collegiate powerhouse. Elinksy brings a high competitive level and a will to fight to earn her spot.
Sarah Shimer, University of Washington
Joining her fellow Husky, Sarah Shimer rounds out the Dash's 2018 draft class. The goalkeeper set a single-season record for shutouts at Washington with 11 and also tied her school's record for lowest career goals-against average with 0.98. Shimer will join the ranks of Jane Campbell for the Dash, bringing a new level of competition for the team as well as being able to earn meaningful experience and possibly a starting position for when Campbell is on national team duty.