 The Washington Spirit are taking a different route through the 2019 National Women's Soccer League offseason, collecting assets rather than giving them away after a disastrous 2018 winter left them barren. The Spirit, after trading the rights to US Women's National Team forward Crystal Dunn for 2017 Rookie of the Year Ashley Hatch and recent USWNT defender Taylor Smith, have traded away Canadian Women's National Team defender Shelina Zadorsky for Orlando Pride backup goalkeeper Aubrey Bledsoe and a 2019 first-round draft pick.
Zadorsky played two seasons with the Washington Spirit, making 34 appearances for the team over that time. She was a member of the 2016 team that made the NWSL Championship Game but would end up losing to the Western New York Flash in penalty kicks. She played in 21 games for the Spirit in 2017. Zadorsky was one of two allocated players on the Spirit roster going into the 2017 season. The other was Canada WNT goalkeeper Stephanie Labbe.
Zadorsky likely became expendable for the Spirit after acquiring defender Taylor Smith from the North Carolina Courage, which sent Crystal Dunn to the Courage in exchange for Smith and Ashley Hatch. The Spirit also picked up defender Schuyler DeBree with the 11th-overall selection in the 2018 NWSL College Draft.
The Pride were in need of a defensive upgrade, and having USWNT goalkeeper Ashlyn Harris allowed Orlando to move their backup goalkeeper. Aubrey Bledsoe started 11 games for the Pride in 2017 while Harris recovered from an injury. She made 36 saves and allowed 15 goals on her way to a 5-2-4 record as the starting keeper. Bledsoe signed with Sydney FC in the Australian Westfield W-League over their 11-day break for the Christmas holiday. She has since started five games, with a record of four wins and one draw, conceding four goals while making 22 saves.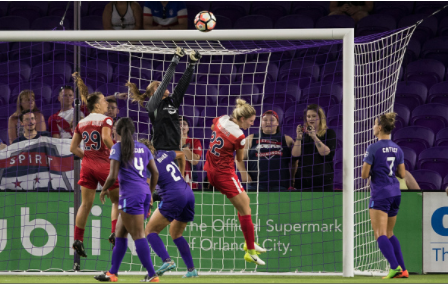 While Stephanie Labbe is still the projected starter for Washington, Bledsoe should see work when Labbe is away for national team duty. Labbe also missed a large part of the 2017 NWSL season due to mental health issues.
The Pride allowed 31 goals in their 24 regular season games in 2017 and made the playoffs for the first time in team history. The Spirit finished last in the league and added Stanford's Andi Sullivan with the first-overall selection in the 2018 NWSL College Draft. They also had the third-overall pick, with which they selections Canadian National Team and Duke University midfielder Rebecca Quinn. The Pride did not have a first-round selection.