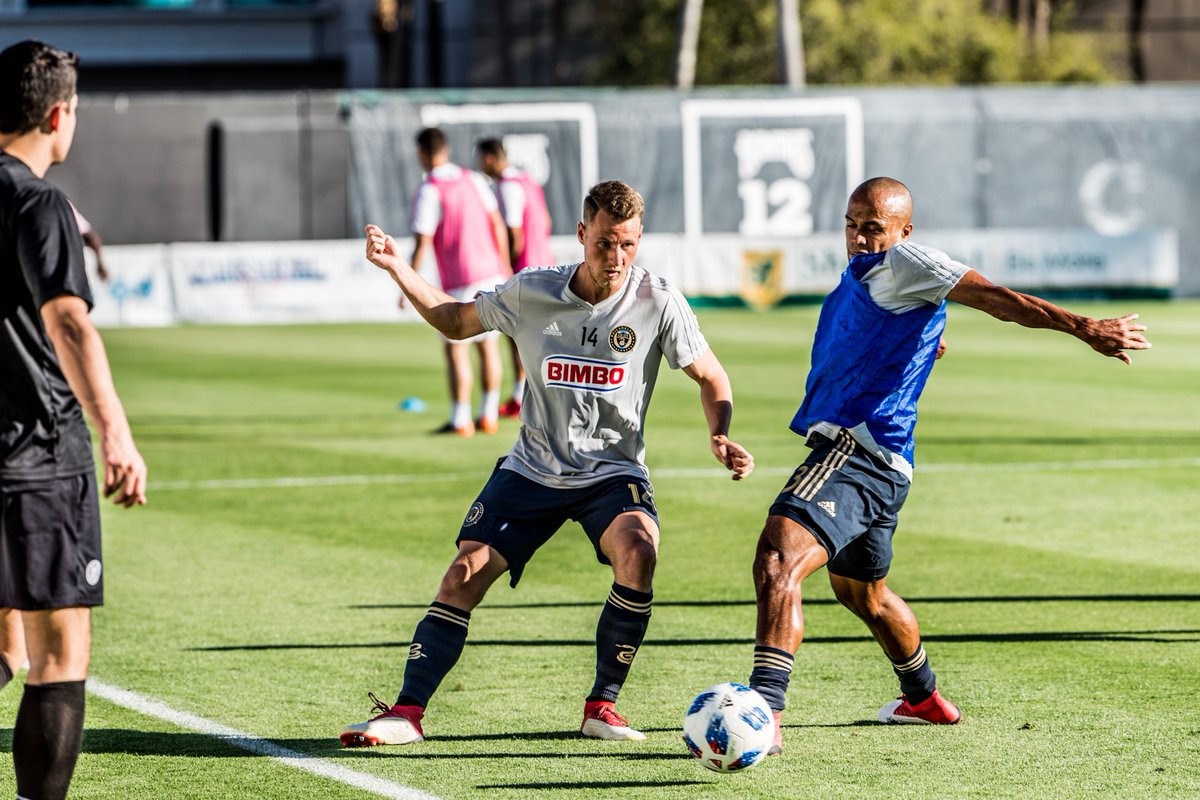 The Philadelphia Union have engaged in lots of preseason play during the month of February. This time, they are participating in the Tampa Bay Rowdies Suncoast Invitational. Their first of three matches is up against long-time rivals D.C. United in Al Lang Stadium. A quiet game, the Union, unfortunately, lost 2-1 in the dying minutes of the game.
Union XI: John McCarthy, Raymon Gaddis, Jack Elliott, Auston Trusty, Fabinho, Alejandro Bedoya, Haris Medunjanin, Anthony Fontana, Fabian Herbers, C.J. Sapong, David Accam
D.C. United XI: Steve Clark, Oneil Fisher, Steve Birnbaum, Frédéric Brilliant, Nick DeLeon, Júnior Moreno, Yamil Asad, Zoltán Steiber, Ulises Segura, Paul Arriola, Darren Mattocks
Struggling 1st Half
This one kicks off and it was relatively one-sided for D.C. United. The black-and-red's were struggling to play from the back, but once they got over that phase of the game, their buildup and movement was superb. As a result, Darren Mattocks scored in the 14th minute after being on the receiving end of a beautiful lofted ball from Zoltan Steiber. Raymon Gaddis lost track of him, and the swift Jamaican found himself in a prime position to head the ball in the net. 1-0 D.C. United.
Shortly after, D.C. United get a freekick after a bad challenge by Fabinho. In a dangerous position, an effort at goal is made and McCarthy makes a beautiful save to keep the game 1-0 in D.C. United's favor.
Over the course of the first half, the Union's press starts to become more active. In disrupting their flow, the boys in blue start to create more via forcing turnovers in their defensive third. This later leads to a penalty drawn by C.J. Sapong. In what was the best chance in the half Philly had to equalize, the penalty is initially saved by Clark and later goes off the crossbar. A rare wasted opportunity as it remains 1-0.
The half ends 1-0.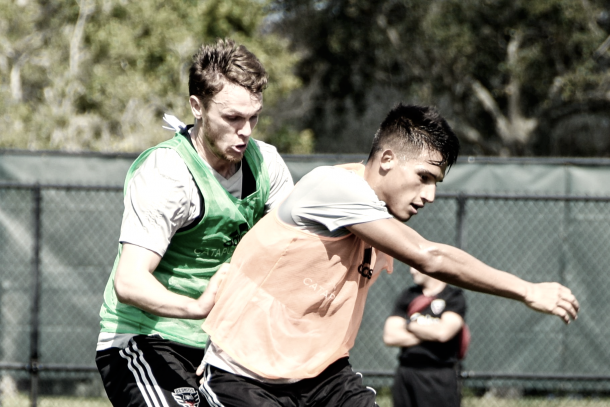 Opportunistic 2nd Half
As halftime substitutions, the Union brings on Keegan Rosenberry for Raymon Gaddis and Jay Simpson for C.J. Sapong while D.C. United brings on David Ousted for Steve Clark, Luciano Acosta for Yamil Asad and Chris Durkin for Júnior Moreno. The 2nd half begins, and the Union comes out with better combination play, crisper passing, and more clear-cut chances, including a self-created chance by Jay Simpson in the 47th minute that unfortunately doesn't find a way in the back of the net. Rosenberry provided width and an option forward for the Union as they relentlessly attacked D.C. United's backline.
From the 62nd minute to the 70th minute, substitutions have been made for both teams. For the Union, Jake McGuire comes on for McCarthy, Josh Yaro for Jack Elliott, Richie Marquez for Auston Trusty, Matt Real for Fabinho, Derrick Jones for Haris Medunjanin, Warren Creavalle for Alejandro Bedoya, Fafa Picault for Fabian Herbers, Adam Najem for David Accam, and Cory Burke for Jay Simpson. For D.C. United, an academy player comes on for Oneil Fisher, Jalen Robinson for Steve Birnbaum, Kofi Opare for Frédéric Brilliant, Bruno Miranda for Zoltán Zieber, Ian Harkes for Ulises Segura, Jared Jeffery for Paul Arriola, and Patrick Mullins for Darren Mattocks.
In the 88th minute, the Union finally add one to the scoreline. A brilliant ball in from Najem finds Burke who heads it home and levels the score. However, Luciano Acosta had other plans as he nets the match winner in a minute after substitute Richie Marquez makes a fatal error. D.C. United manage to take this one, 2-1.
Despite the result, everyone stayed positive. In a postgame interview, Union manager Jim Curtin said: "I'm happy with the performance, but disappointed with the result". Homegrown signing Matthew Real is pleased with the opportunities and said: "I'm just going to keep pushing to show the coaches what I can do this year." Goalscorer Cory Burke reflected on his appearance in this game and is pleased with his performances during this preseason. "It's going good so far." were his words to describe his play, and like Real, he's very happy with the confidence Jim Curtin has displayed in him.
The Union's next game in the invitational will be Wednesday, February 21st, on 7 PM, vs. the Montreal Impact in Joe DiMaggio Sports Complex.