 Less than three months before Mexico kicks off their World Cup campaign against Germany, El Tri plays their last set of friendlies before the final roster announcements will take place. Mexico faces a talented Croatian team Tuesday, but before that matchup, El Tri faces world darlings Iceland Friday night.
Preparation for the Swedes
Iceland will be without their star player Gylfi Sigurdsson but still brings in their best squad possible. The matchup with Iceland makes sense for both teams. Iceland plays a disciplined and compact 4-4-2 formation. They sit back and tighten any protentional gap as they look to funnel teams into long range half chances and meaningless and hopeless crosses. This is the type of defensive style that will look like what Sweden will do come June, as Sweden's November Play-off victory over Italy showed how comfortable they look sitting behind the ball and winning crosses into their box.
On offense, Iceland will look to break Mexico's play and attack on the counter and exploit the possibility of Mexico not having enough defensive structure as El Tri will push players on the offensive end. Counters and set pieces, which have been Mexico's biggest kryptonite over the last decade, will be where Iceland will hope to take advantage of Mexico. Such strategies are like what Mexico has faced in World Cup Qualifying and will be what Sweden will also try to take advantage of come June.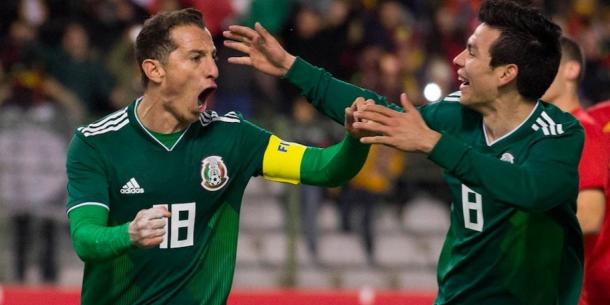 Offensively for Mexico, regardless of who they start tomorrow, Mexico must find a way to break Iceland through the middle of the park with their midfielders. If players such as Andres Guardado and Hector Herrera are able to take over the middle of the park, this will force Iceland to start to push forward in their defensive shape and allow more openings for Mexico's talented wide players such as Jesus Corona, Hirving Lozano, and Carlos Vela to attack with more space out wide and also create attacks with Mexico's outside backs like Miguel Layun.
Last time Mexico's full squad was together they came away with two good results with a draw against Belgium and a win over Poland in Europe. A result against Iceland won't move the needle in the grand scheme of things, it will continue to build confidence for a group of players and a coaching staff that will need to believe when it comes to their group opener against reigning champions Germany come June 18th.