Today it was anouced that Megan Rapinoe has been ruled out of the upcoming USWNT camp due to injury, US Soccer said in a post this afternoon. Rapinoe suffered a rib injury during the match last Tuesday between the Seattle Reign and the Houston Dash. Rapinoe will still join the USWNT to get evaluated for her injury.Forward and veteran Amy Rodriguez has been called up to replace her on the roster. The US is set to play two friendlies against Chile.

Rapinoe a USWNT veteran has appeared for her country 140 times and has managed to find the back of the net 38 times. Her most recent goal coming during the Tournament of Nations in Kansas City, Kansas against Japan. Her goal that night was the fourth goal that the USA scored. USWNT went on to win the Tournament of Nations.For her club she has scored 20 times since 2016, and during the 2017 season scored 12 goals. This season she has played in 16 games and started in 15. She is the captain of the Reign along side forward Jessica Fishlock.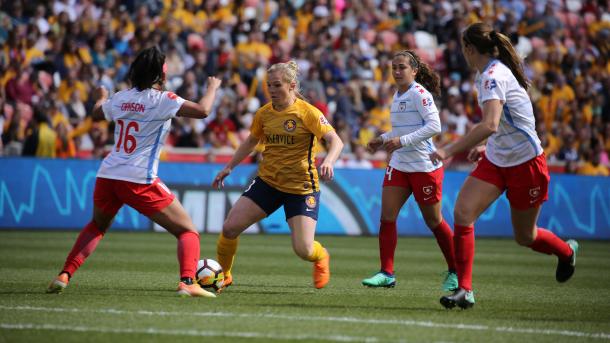 Rodriguez joins the USWNT after a successful NWSL season with the newest team the Utah Royals. Her rights were transferred over from when FC Kansas City folded over the offseason. The forward has 131 caps and 30 goals to her name for the USWNT. For the Royals she has appeared in 18 matches and started in 15, totalling 1222 minutes. She has four goals this season and one assist. Rodriguez was on the USA's roster for the Tournament of Nations but didn't see playing time.
The USWNT is to take on Chile on August 31st(Match starts at 8PM Pacific time on ESPN 2) and on September 4th (Starts at 7PM Pacific time and also on ESPN 2)