USWNT dominate Chile tonight! Thank you for following along tonight. This is Felix Hernandez for VAVEL USA hoping you enjoyed the match. USWNT 3 Chile 0. So long everybody!
FT': Questionable refereeing continues in the Women's game. There was 2-3 USWNT goals called back that may have been goals.
FT: The Americans were too much for the Chileans. USWNT dominated every part of the game. Chile is lucky that the final score was not worse than the result. Chile will learn from this thrashing from a superior opponent and will move on to the next friendly against the US on Tuesday.
Fulltime: USWNT 3 - Chile 0
90+3': Referee looks at her watch and blows the final whistle.
2 minutes of injury time added on.
90': Match delayed as Lara goes down from taking a ball to the back. She is able to continue.
87': Lloyd with three shots on net but Endler stops them all.
86': Another Pugh chance. Great services from Brain to Pugh. Pugh's shot is tapped over the bar by Endler.
83': Mewis free kick goes off the wall and Endler eventually collects.
81': Chile defender goes down for a injury just before Mewis takes the free kick. Appears to be accidental step on Saez foot.
80': Yellow card issued to Soto from tripping up Mewis just outside the box. Left side.
79': Corner kick chances continue. Lloyd's header goes over the crossbar.
​78': Another great save by Endler. This time she robs Pugh close to the 6 yard box.
76': Zamora tries to chase down a long ball but Naeher comes out to collect
76': A parade of corners for the USWNT. Endler collects.
74': Yellow card issued to Chile's Urrutia for a hard foul on Davidson.
74: USWNT substitution: Ertz OUT, Mace IN.
73': Offside Brain. Great ball from Lloyd but called back on offside.
68': Chile Substitution: Araya OUT, Soto IN.
68': US chance. Press teammates are looking to get her more! Chile defender does enough to disrupt Press' shot.
67': Press looking for more but her right footed shot bends wide left.
65': Busy night for Endler and Chile defense. Two more corner kicks for the USWNT.
61': USWNT Substitution: Mewis IN, Dunn OUT.
USWNT 3 - Chile 0
59': GOOOOOOOOOOOOOLLL! Christen Press goal finally counts. Great pass from Mallory Pugh to a wide open Press at the near post. Press almost kicks the ball through the net.
57': Press scores but is called back again for a foul on Sonnett. Sonnett held the arm of a Chile defender. Still 2-0 USWNT.
55': Lloyd hits the crossbar! Lloyd's rocket of a shot from outside the box hits the bottom of the crossbar and is cleared.
53': Davidson free kick is cleared and USWNT commits a foul.
52': USWNT earn a free kick from a foul outside to the right of the box.
50': Chile Lopez down from a hard crash with Ertz. Both players are able to continue.
46': Chile substitutions: Rojas OUT, Zamora IN. Pinilla OUT, Urrutia IN.
46': USWNT substitutions: Horan OUT, Zerboni IN. Lavelle OUT, Brain IN. Heath OUT, Pugh IN. Morgan OUT, Lloyd IN.
46': The second half is underway!
Halftime: Major confusion on and off the field from referee's decision to disallow the goal.
Halftime: USWNT 2 - Chile 0
45+3': Referee blows the whistle for halftime. US players and coaching staff not happy. Sauerbrunn holds Dunn back from the referees.
Correction: Press penalty goal disallowed for encroachment by Crystal Dunn
45+2': GOOOOOOOOOOOLLL Christen Press scores from the penalty spot.
45': Penalty! Heath took her defender into the box and is fouled.
41': Half chance for Chile but strong defense from Sauerbrunn fizzles out any Chile shot.
40': Horan slides the ball into the net but is called for a foul on Endler. No goal.
39': Yellow card given to Tobin Heath for facial contact to Chile defender.
37': Save Endler! Heath tries a shot from distance but Endler is sharp in net.
Correction: Ertz goal is change to an Guerrero Own Goal.
USWNT 2 - Chile 0
31': GOOOOOOOLLL USWNT! Ertz header from Heath's corner finds the back of the net!
29': Steal by Press! She take the ball wide in the box but her shot is right at Endler for an easy save.
28': Foul on Chile just outside the box again. 20 yards out. Heath's free kick floats harmlessly wide of the goal.
26': Good lead up from Chile but chance is snubbed out by the strong US defense.
24': Great save by Endler on Horan's header from a Heath corner. Two more corners earned by USWNT. Chile survives and finally earn a goal-kick.
22': USWNT chance! Morgan takes a right footed shot that Endler pushes aside. Great save one on one!
20': Heath take a free kick from 25 yards out. Just misses Ertz and the ball bounces harmlessly to Endler.
16': Morgan tries a shot from distance that goes over the bar.
12': Chile chance! Araya fires a rocket from outside of the box and Naeher lifts it over the bar. Nothing comes from the corner.
USWNT 1 - Chile 0
8': GOOOOOOOOOOLLL USWNT! Heath takes another corner. Davidson is at the end and her header finds the back of the net. The 19 year old scores her first international goal!
​6': Chile concede the first corner of the match. Heath's corner kick is collected by Chile goalkeeper Endler.
4': Chile commits the first foul of the match. Tobin Heath finds Alex Morgan off the free kick. Morgan's shot goes wide from outside the top of the box.
1': USWNT will take the kickoff and we are off!
National Anthems are finished and we are moments away from kickoff!
But first, Christen Press is honored for 100th match for the USWNT. She receives a watch and a special 100 USA jersey.
Teams are coming out for the National Anthems.
USWNT players not dressed for tonight: Franch, Dahlkemper, O'Hara, Short, Rodriguez.
Chile starting XI: Endler, Guerrero, Lara, Rojas, Araya, Aedo, Lopez, Santibáñez, Pinilla, Leyton, Saez.
USWNT starting XI: Naeher; Dunn, Davidson, Sauerbrunn, Sonnett, Horan, Ertz, Lavelle, Heath, Morgan, Press.
The Starting XI are in!
Less than 90 minutes till kickoff! Starting lineups will be coming out shortly.
Its game day!
Be sure to check back here as new information such as injuries, replacements and starting lineups become available. Then join me Friday night for live game updates.
Prior to the match, forward Christen Press will be honored for her 100th USWNT cap earned against China earlier this year. Press, has 44 goals in 103 caps for the USWNT.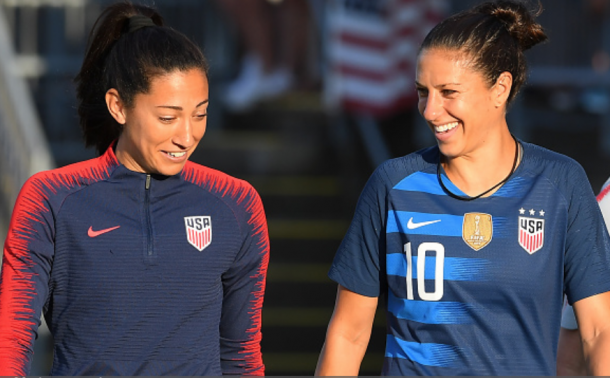 Chilean players to watch for: Copa America Femenina leading Chilean goal scorer Yanara Aedo was recently released by the Washington Spirit has found a home in Spain playing for Valencia CF Femenino. The forward has scored four goals in seven matches for her National team this year. Maria José Rojas, who plays her club soccer in Japan, is a small aggressive striker that lacks size. What she losses in size, she makes up for in speed. Watch out for her quickness as she tries to work around the US backline. Goalkeeper Christine Endler has height, can read the play well for distribution and is a good penalty stopper. Endler plays her club football in France as Paris Saint-Germain's starting goalkeeper. In July 2017, Endler signed a three year deal with PSG securing her till 2020. The 27 year old has been named Chilean Women's Player of the Year 3 times.
USWNT Forward Megan Rapinoe, who was originally called up, will be replaced by Amy Rodriguez due to a rib injury. The injury occured in a match between Seattle Reign FC and Houston Dash. Making their return to the US squad will be Kelley O'Hara and Mallory Pugh after injuries held them out for most of the NWSL season. Midfielder Allie Long will be held off the roster due a right knee sprain against the Chicago Red Stars.
The USWNT is coming off their 2018 Tournament of Nations victory by defeated Japan, Brazil and drawing Australia. The final standings had USWNT and Australia tied on points but the US had a better goal differential giving them the title.
In April, Chile qualified for their country's first Women's World Cup by finishing as runner-up in the 2018 Copa América Femenina tournament. Brazil won the tournament going undefeated but the hosts Chile won the hearts of their nation, only losing one match in the tournament on their way to World Cup qualification. The nation celebrated their achievement by inviting them to the Chilean Capital.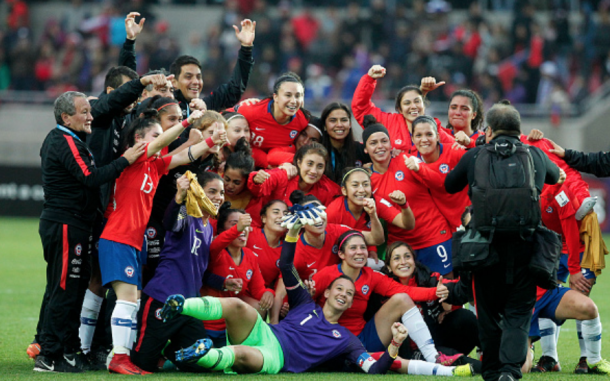 This will be the first time the USWNT and Chile play in international competition. This will be a good test for the Chilean Women's National team to access their team against the World's number one ranked team and defending World Champions.
These matches will be the last tune up for the USWNT before they compete in the 2018 CONCACAF Women's Championship. The tournament will serve as the 2018 CONCACAF Women's World Cup Qualifiers. The top three finishers will qualify for the 2019 Women's World Cup in France. The tournament's fourth place finisher will be forced into a two-legged playoff with Argentina for the last World Cup spot.
USWNT will face-off against Chile twice in five days. Friday, August 31 in Carson, California and Tuesday, September 4 in San Jose, California.
Hello and welcome to VAVEL USA's LIVE coverage of an International Friendly matchup between the United States Women's National Team and Chile. My name is Felix Hernandez and I will be your host tonight. From now until kickoff on Friday, August 8 at 11 PM EST, I will be keeping you updated on news and notes. Be sure to come back at kickoff for LIVE updates.