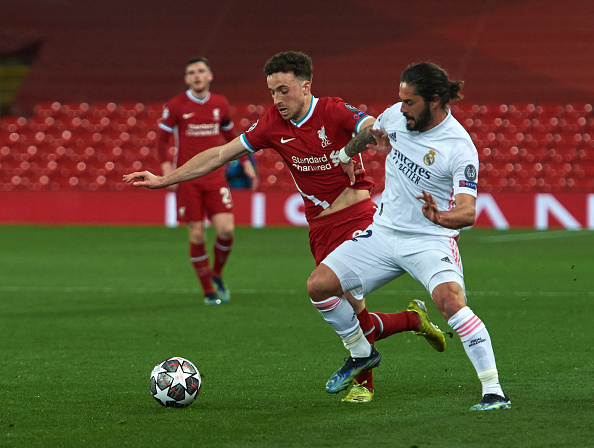 Liverpool and Real Madrid faced off at Anfield with a spot in the semi-finals on the line and the current situation was the home team was down 3-1 after the first leg.
Liverpool came out firing unlike the first leg and inside two minutes and Thibaut Courtois was forced into action as he made an incredible save on Mo Salah who was all alone and looking for the opening goal of the game.
Nine minutes later again the home side continued to push and press and James Milner almost broke the deadlock but again was denied by Courtois who made a diving glove save.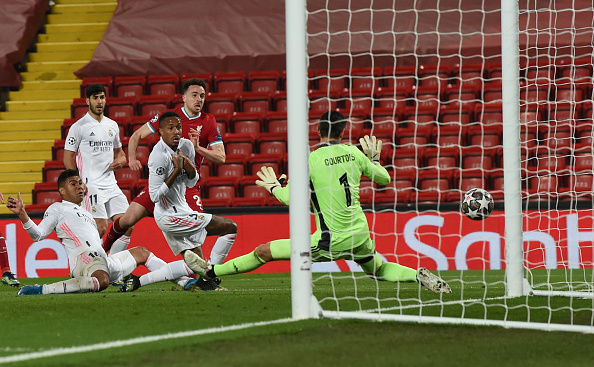 Real Madrid got its first chance of the game when Karim Benzema managed to get the first shot of the game for the visitors but it would hit the post and go out.
Only a minute later Liverpool goalkeeper Alisson Becker made his first save of the game this time on Vinicius Jr and both teams went into halftime with the score 0-0 but the home side looked very dangerous and Madrid played most of the first half on its toes.
The second half was much of the same with Liverpool attacking and Real Madrid staying back and waiting and defending. A minute into the half Courtois was sprung into action this time making a crucial save on Roberto Firmino.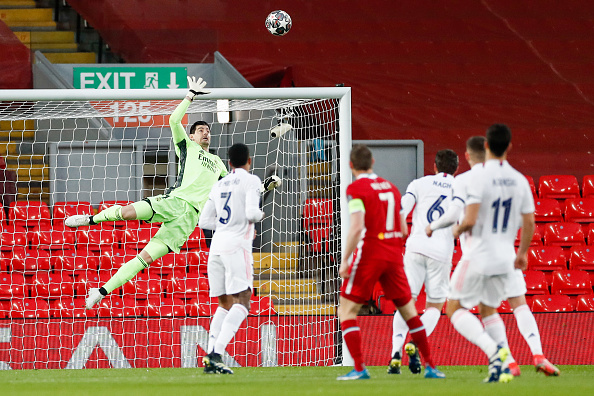 The visitors finally came alive in the 66th minute and Vinicius Jr had a serious chance to score the first goal of the game when he went in on Becker but the keeper would make the diving save.
It was back and forth after that but mostly Liverpool putting immense pressure on Real Madrid with a 60-40 possession and with two minutes left in the game Salah had one last chance to score but was denied once again.
The final whistle blew and Real Madrid had booked their spot in the UEFA Champions League semi-final where they will play against Chelsea who beat FC Porto.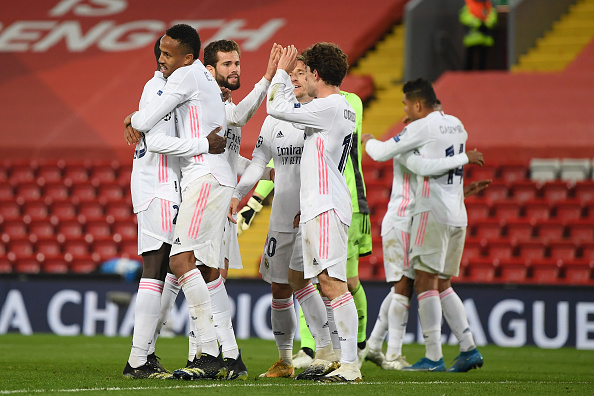 After the match, Zidane acknowledges his team had suffered tonight to get the win.
" It's true we have suffered tonight, we were under pressure, we have gone through this quarterfinal tie, it's normal I think we have deserved to have gone through this round, we knew it was going to be hard and they would make it hard for us, we controlled parts of the game pretty well"
The semi-finals will be played in two weeks will give Real Madrid plenty of time to rest and recover and get ready for a chance to make the final.