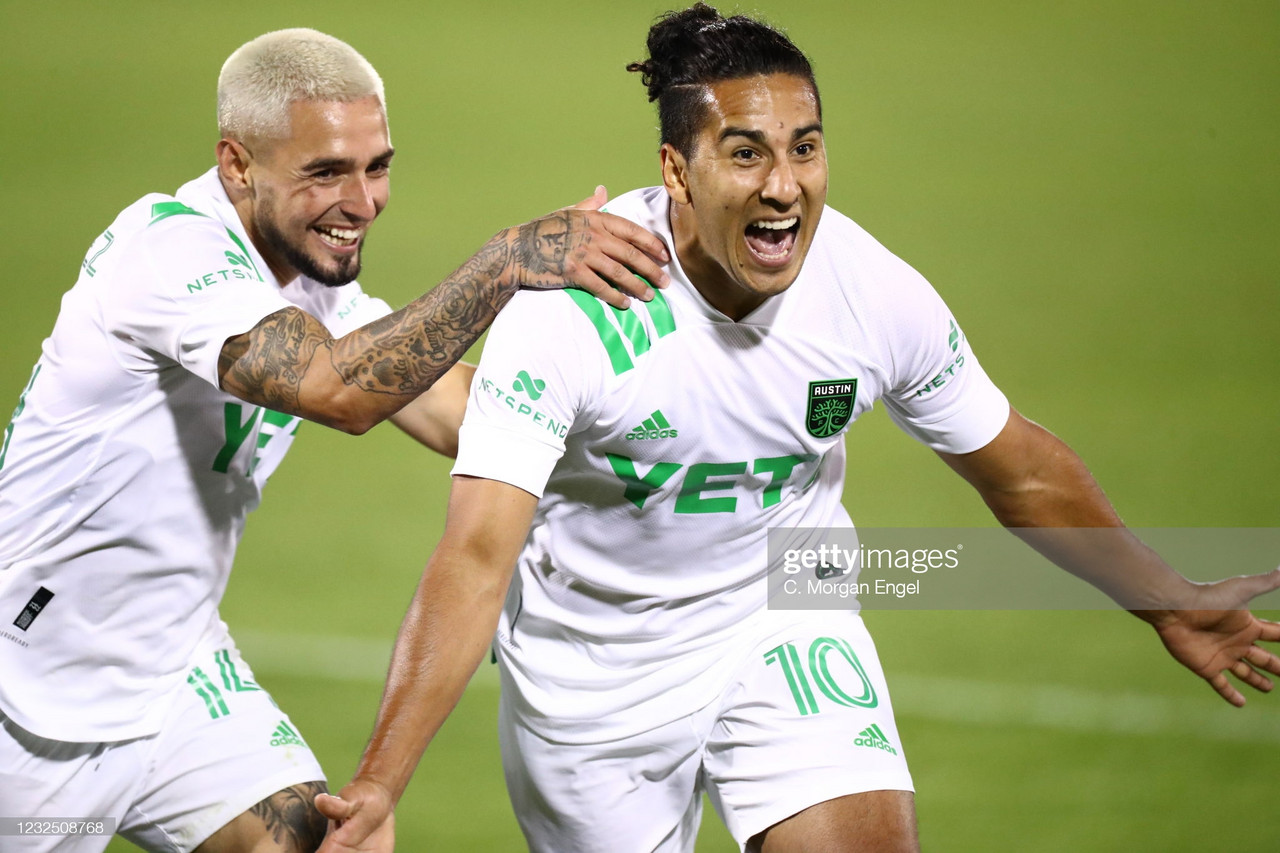 Austin FC have won for the first time as a Major League Soccer franchise, defeating the Colorado Rapids 3-1 at Dick's Sporting Goods Park.
Andre Shinyashiki gave Colorado a 36th-minute lead before Diego Fagundez levelled with the first goal in Austin club history and Cecilo Dominguez added a pair to propel Los Verdes to their first three points.
Story of the match
Austin came into the game shorthanded as designated player Tomas Pochettino was a late scratch from the starting lineup due to a league-related administrative issue regarding his registration and center back Matt Besler staying home to be with his wife, who gave birth.
Things appeared to get worse for Los Verdes in the 20th minute as starting left back Ben Sweat went down with an apparent knee injury. Jared Stroud had some good early moments for the visitors and Diego Rubio and Michael Barrios were constant threats for the hosts.
Finally, in the 36th minute, Colorado took the lead as Jack Price delivered a corner kick that Shinyashiki was able to head past Stuver to give the Rapids a 1-0 lead.
Austin nearly tied the game as Dominguez' 49th-minute free kick hit the post. Rubio then had two chances in a five-minute span to double the hosts' lead, but was unable to finish.
History was then made as the first-ever goal for Los Verdes came on the hour mark from a Jared Stroud cross that Fagundez was able to finish to level the match.
The visitors then took the lead in the 67th minute as substitute Jon Gallagher assisted on Dominguez' first goal and Rodney Redes supplying him for the second just four minutes later to make it 3-1.
Stuver stayed strong in the Austin net and he denied Jonathan Lewis' 79th minute chance. No more action took place and Los Verdes had a historic victory in just their second game.
Man of the match: Cecilo Dominguez
His two goals in four minutes broke a 1-1 deadlock and led to the first win in Austin franchise history. As the first designated player in the club's history, he provided immediate dividends.
Takeaways
Huge win for Austin FC
Unlike other sports where expansion franchises struggle, Austin have designs on a possible playoff spot and beating a team that could realistically be fighting with them for that is a big step forward for Los Verdes.
Second half adjustment by Wolff pays off
Austin head coach Josh Wolff told Dominguez to get into pockets of space in and behind the Colorado defense rather than playing out wide as he did for parts of the first half and the adjustment had the desired effect and decided the match.