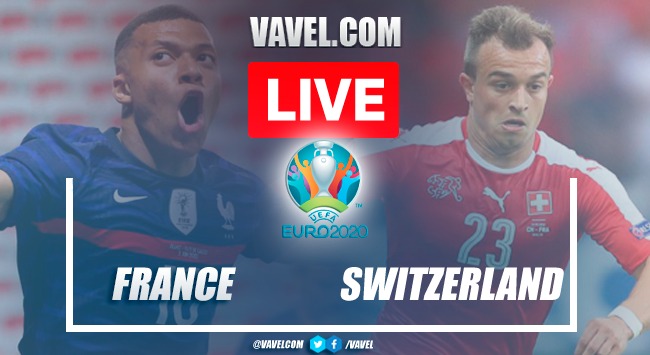 Goals and highlights |
End of the match |
Penalties |
Penalties |
Penalties |
Penalties |
Penalties |
Penalties |
Penalties |
Penalties |
Penalties |
Penalties |
120'
119'
113'
109'
105'
105+1'
105'
102'
96'
94'
93'
90'
90+5'
90+4'
90'
90'
86'
83'
81'
77'
74'
67'
62'
59'
56'
54'
53'
52'
49'
45'
45+3'
45+1'
45+1'
40'
39'
36'
30'
28'
22'
20'
15'
12'
8'
0'
Switzerland: LineUp |
France: LineUp |
France dominates!
Warm up your engines!
Experience in positive streaks!
France makes its presence felt!
They arrived at the property!
All set!
Tune in France vs Switzerland Live Score |
How to watch France vs Switzerland Live Stream on TV and Online?
To put an end to bad luck |
What a fact!
Key player of Switzerland |
Key player of France |
Last lineups of Frances - Switzerland |
Switzerland slipped through!
France vs Switzerland: France with an advantage
Decisive duel!
The match will be played at the Arena Nationala stadium
Welcome to VAVEL.com's coverage of the 2020 Euro match: France vs Switzerland Live Updates!