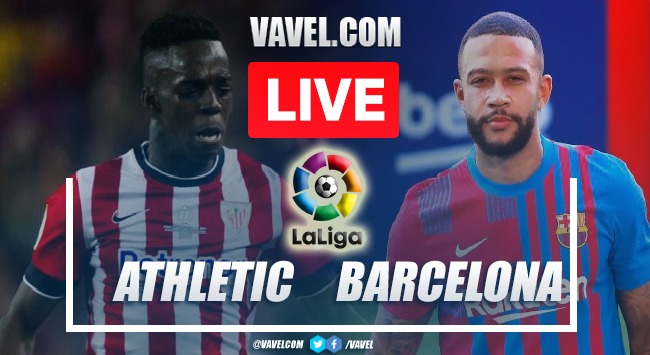 Thank you for following the match!
These are the goals of today's match
And the match ends!!
Red card for Barcelona!!!
And the referee ads 3 minutes
Changes for Barcelona
Two changes for Bilbao
Change for Bilbao
Yellow card for Barcelona
Min 75: Y empata el Barcelona!!! 1-1
Min 73: What a chance for Barcelona!!!
Changes for Bilbao
Min 63: 2 changes for Barca
Min 61: What an intervention by Neto!!
min 49: Gooooooal for Bilbaooooo!!
Min 45: Another mistake by Neto
The second half begins!!!
And the first half ends!!!
And the referee decides to add 2 minutes
Min 29: Piqué won't be able to continue on the pitch!
First yellow card
min 17: What a mistase by Neto!!
Min 10: crosbar!!!
Min 9: what a save by Neto
Min 6: Bad shot from Braithwaite!
And the match begins!!
Bilbao players arriving at their stadium
First tweet from Barcelona pre match
Starting XI for Barcelona
Starting XI for Bilbao
Bilbao finished third last season.
Can Barcelona have a better season than last one?
Bilbao come with 5 injuries as well!
El Barcelona llega con 5 lesionados
Tune in here Athletic Club vs Barcelona live score
Player to watch from Barcelona:
Player to watch from Bilbao: Alex Berenguer
When and where can you watch the match?
The times to watch the match
Barcelona started off with a win against Real Sociedad, and 3 preseason games won
Bilbao started off with a good preseason, and a draw against Elche.
¡Great Duel!
¡Good evening to all VAVEL readers!