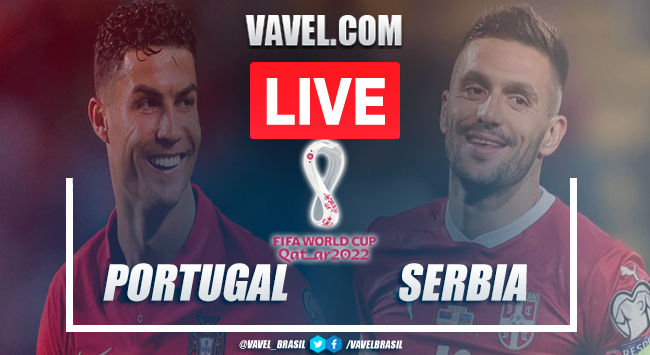 Gave Eagles
94'
91' Yellow card for Serbia
90'
90' GOAL SERBIA
89' Substitution in Serbia
83' Substitutions in Portugal
82' ALMOST
79'
75'
70'
67' Substitution in Serbia
66' Yellow card for Portugal
65' Yellow card for Serbia
64' Substitution in Serbia
62' Substitutions in Portugal
61' Yellow card for Portugal
58'
51' BY FAR
49'
45'
Substitution in Serbia
46'
45'
43' GOAL CANCELLED
40' WOW
39'
35'
33' GOAL SERBIA
27'
20'
13'
12' Yellow card for Serbia
12'
11' ON THE TRAVE
8'
7' Yellow card for Portugal
6'
2' Yellow card for Serbia
1' GOAL PORTUGAL
00'
Ball is already rolling
⏱️
⏱️
⏱️
⏱️
Serbian reserves
Serbia lineup
Portuguese reserves
Portugal lineup
Video Refereeing
Field Referee
What time is Portugal vs Serbia match for World Cup Qualifiers?
How to follow Portugal vs Serbia for the World Cup Qualifiers?
Latest results from Serbia
Latest results from Portugal
Serbian side relaxed
Portuguese situation
Classification
White Eagles in the rearview mirror
Immortals at the top
Vale leadership
Welcome to VAVEL.com's coverage of the World Cup Qualifiers match: Portugal vs Serbia Live Updates!