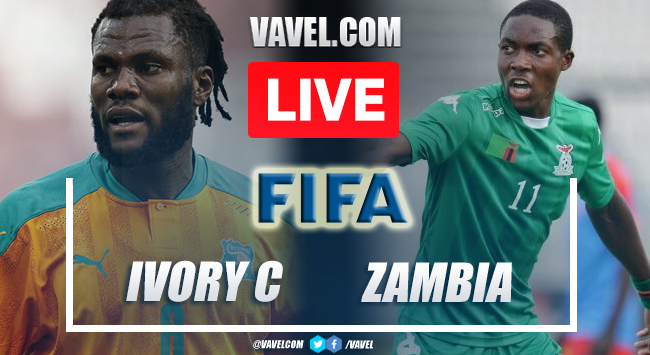 THANKS FOR FOLLOWING THE BROADCAST ON VAVEL
THE GAME IS OVER
77´
67´
59´
THE SECOND HALF GETS UNDERWAY
END OF THE FIRST HALF
39´
28´
16´
THE GAME KICKS OFF
IN MOMENTS WE START
HIGH PERCENTAGE OF GOALS
HERE COMES ZAMBIA
HOW THE IVORY COAST ARRIVES
THEY SUFFER FROM AWAY GOALS
IVORY COAST IS STRONG AT HOME
INCREDIBLE AS IT MAY SEEM
WHO ARE IN YOUR GROUP?
THE WAIT IS OVER
Tune in here Ivory Coast vs Zambia Live Score
What time is Ivory Coast vs Zambia match for African Cup Qualifiers?
Watch out for this Zambian player:
Watch out for this player from Ivory Coast:
Last Zambia lineup:
Last Ivory Coast lineup:
Background:
Background:
About the Stadium:
Expectations continue to rise
The mighty Ivory Coast is back
Africa Cup of Nations Qualifiers Kick Off
Kick-off time
Welcome to VAVEL.com's LIVE coverage of the African Cup Qualifiers: Ivory Coast vs Zambia!