The junior doubles titles were handed out on Sunday with a pair of unseeded teams claiming titles. Paula Arias Manjon and Olga Danilovic claimed the girls doubles titles, while Yshai Oliel and Patrik Rikl continued their hot run to win the boys title. Here's what happened in the junior doubles finals at the French Open.
Girls
Manjon and Danilovic were facing an uphill battle against the top-seeded team of Olesya Pervushina and Anastasia Potapova. The Russians had yet to drop a set in the tournament and continued their run by dominating on their own serve in the opening set. Even though the five points they lost on serve resulted in a break, they never gave their opponents another chance and broke twice to claim the opening set.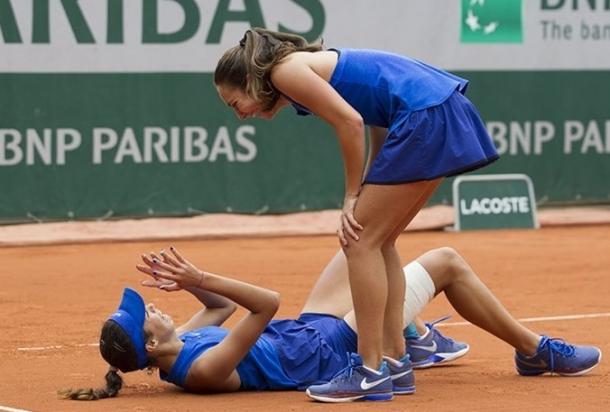 The Spanish/Serbian pair turned the tables in the second set, breaking through twice on the Russians' serve while limiting the top seeds to only one break of their own to hand the Russians their first set loss of the tournament. The final would need a super tiebreak to decide the title. The teams exchanged multiple minibreaks and was tight to the finish. But in the end, Manjan and Danilovic held on, winning the super tiebreak 10-8 and the match 3-6, 6-3, [10-8] to claim the title.
Boys
A day after upsetting the Australian Open champions in the semifinals, Yshai Oliel and Patrik Rikl had a much easier time of things in the final. The pair were taking on a fellow unseeded team in the form of Chung Yun-Seong and Orlando Luz. There was very little between the pairs in the opening set, with both teams cruising on serve. There was only one break point in the entire set, which Oliel and Rikl converted which was enough to claim the opener.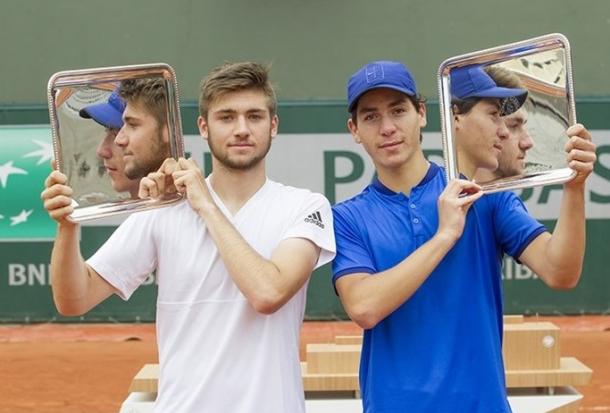 The second set was a little more interesting. Oliel and Rikl struggled on their second serves but backed it up with some strong first serves. Yun-Seong and Luz finally managed a break, but it was all for not as the Israeli/Czech pair responded with two breaks of their own. After back-to-back three setters, Oliel and Rikl showed no signs of fatigue and claimed the title with a 6-3, 6-4 victory.