 Gilles Muller backed up his fine results on the grass this season with a convincing straights sets win over Alexandr Dolgopolov 6-3, 6-4 to reach the semifinals of the Aegon Open.
After reaching the final in s-Hertogenbosch (l. Mahut) and the quarterfinals at the Queen's Club (l. Cilic), the Luxembourg native has been backing up those performances with fine wins in Nottingham and will face the second seed Pablo Cuevas as they battle for a place in the final.
Post-match thoughts
Speaking after his win, the eighth seed said, "I think today was my best performance of the tournament so far, aside from the start of the second set were I played a bad service game, the rest of the match was very solid. I didn't give him many chances to break and I had plenty of chances to break, so overall it was a good performance."
Muller won the ATP Challenger event in Nottingham five years ago and reached the semifinals here last year. "I do enjoy coming back here, it's a nice place, there's a good hotel in the middle of the city and some nice restaurants, so I'm enjoying myself here", he said.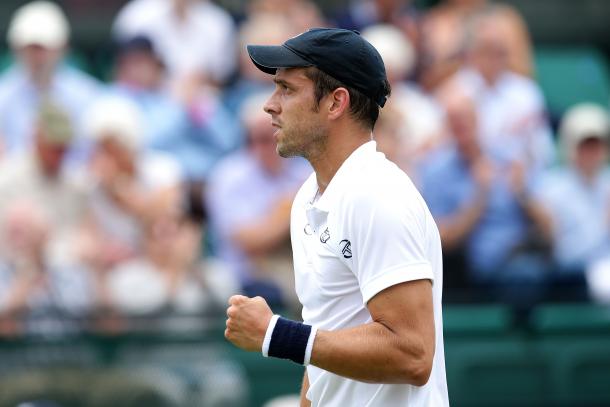 Seeking his first ATP Tour title
Muller is still seeking to win the first ATP Tour title of his career but isn't getting too carried away after reaching the semifinals here again at the Nottingham Tennis Centre. "I have to focus first on my semifinal tomorrow. Pablo (Cuevas) doesn't like the grass too much but he's still a great player and he came back from a big injury I think two years ago and has been in the top 50 since. It's going to be a very tough match and I think it would be a huge mistake to look ahead already."
"My first two matches were good, but I always felt like there was room for improvement. I'm always trying to play the perfect match, which is tough to do, but even today there's a few things that I could do better. I'm going to try and improve every match and so far it's going good."
The eighth seed finished late last night on Centre Court and did not feel at his best when he woke up this morning after he battled back from a set down to defeat Mikhail Youzhny 6-7(4), 7-6(4), 6-3. "I have to say not great, obviously, I got back to the hotel pretty late, had dinner very late and had doping control last night", he said. "So I didn't have the best night, but like I said I'm very happy that I got through and I'm looking forward to this afternoon where I can relax a little bit."