Johanna Konta started off her campaign at this year's Australian Open with a straightforward 7-5, 6-2 win over Kirsten Flipkens. The Apia Sydney International champion was playing excellent tennis in the run up to the first grand slam and is widely considered to be an outside threat to win the title in Melbourne.
Konta squeezes through opening set
The Belgian started the match by serving and her first point was a double fault, which certainly wasn't the most ideal start. It was a scrappy start by both players with Konta making unforced errors and Flipkens was able to hold to 30. The scrappy start by both players continued as Konta held to 30 and Flipkens held to 15. Konta began to find her fluency in the searing heat and hit some clean winners in the next game as she held to love. Two more love holds were exchanged between the two players as the score was 3-3. The seventh game brought the first opportunity as Konta hit a clean return winner followed by a Flipkens miss for 0-30. She was able to bring up three break points but Flipkens saved the first two to bring it back to 30-40. Konta was able to take the third break point to lead 4-3 and make the first move of the match. Konta backed up the break with a hold to 15 and looked in control at 0-30 but Flipkens was able to fight back and hold to 30 and force Konta to serve for the set.
The tenth game was the most dramatic of the match. Flipkens had 0-30 to start off the game but Konta was able to get that back to 30-30. The world number 9 then double faulted to give Flipkens her first break point. Konta saved with a good serve that Flipkens missed on the return with. Konta then brought up her first set point but Flipkens was able to save this and Konta had a second which was also saved. Flipkens brought up another break point which she wasted with a poor forehand. On the fourth deuce, Flipkens got another break point which she was finally able to take to level at 5-5. In the next game, Konta brought up a break point at 30-40. On the break point, a poor line call which was corrected was a frustration for Konta as she had an easy put away for the point. Konta did win the replayed point to serve for the set for the second time. Konta brought up three set points at 40-0 and only needed the first to clinch the first set 7-5.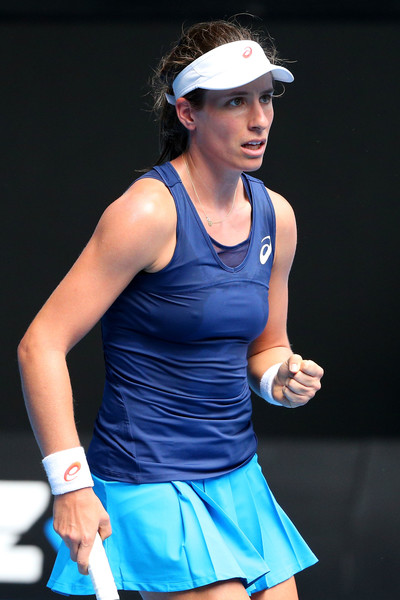 Konta cruises home in set two
Flipkens started off the second set serving and was under pressure from the off, down three break points in the first game. Flipkens managed to save all three but Konta was able to bring up another break point, which was also saved and Flipkens was able to hold. The two players then exchanged comfortable holds to bring the score to 2-2. Flipkens looked like she was on course for another comfortable hold at 30-0 but Konta was able to bring up a break point at 30-40 and a blistering return winner brought up the break and sparked a run of four straight games to finish the match.
Konta didn't face any break points in the next match but was took to deuce and was only able to hold on the third deuce to consolidate the earlier break. Konta was overcoming some poor luck which was apparent again in the next game. A Flipkens lob was going long and as Konta was scrambling to get out of the way the ball struck her foot just before the ball hit the ground and this meant she lost the point, turning a possible 15-30 situation into 30-15. She got back to 30-40 to bring up a break point which she took to lead 5-2 and serve for the match after the changeover. Flipkens had one final glimmer of an opportunity at 0-30 but Konta shut it down quickly and brought up a match point at 40-30. She took it to seal a 7-5, 6-2 victory and will have been pleased to seal a straight sets victory in the intense heat that was hitting Melbourne on Tuesday.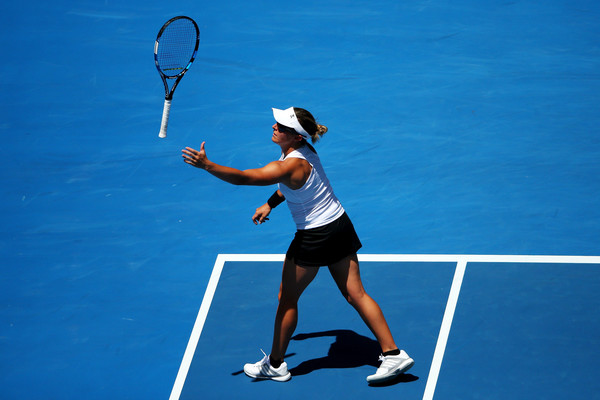 Konta will play rising star Naomi Osaka in round 2 in a tough draw where she could play Caroline Wozniacki, Dominika Cibulkova, and Serena Williams just to reach the semifinals. The Brit will fear no-one though as she has now won 9 matches with just 1 loss so far this season.