 It was a hotly anticipated matchup between the main Australian hope in the women's draw and a tricky opponent from the old enemy to the Aussies - the Brits, and it certainly did not disappoint. Daria Gavrilova, the 22nd seed was facing off on a night match on Margaret Court Arena against Naomi Broady and it turned into the best match of the Women's singles so far at this year's Australian Open.
Broady comes back to claim opener
The Brit was serving first and the backbone of her excellent display throughout was the serve, as she served 19 aces and won 71 percent of points behind her first serve. Her first service game was a straightforward hold to love. The Aussie held to 15 and then immediately got three break points on the Broady serve, which she took the first of. It wasn't plain sailing for Gavrilova though, as Broady fought back from 40-0 down to force deuce and bring up a break point on the first deuce, which she was able to take to tie it up again at 2-2. three comfortable service holds followed but the decisive game of the first set was the eighth.
Gavrilova was up 30-0 but hit a double fault to let Broady back into the game. She had a chance to close it out at 40-30 but Broady hit an excellent return winner to force deuce. Gavrilova hit another double fault to hand Broady a break point and was able to win an excellent rally to seal a 5-3 lead and the chance to serve for the set. Broady had two set points at 40-15 and was able to take the first for a 6-3 lead.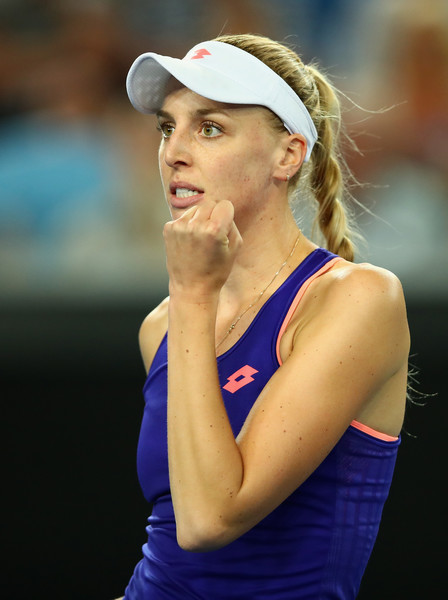 Gavrilova fights back to force decider
Gavrilova opened up the first set by serving and got a crucial hold to 15 to get some momentum back and get on the board. She then brought up a break point at 30-40 in the next game and a wild backhand error from Broady saw Gavrilova take a 2-0 lead. It wasn't all plain sailing as Broady had a break point of her own in the next game but Gavrilova was able to hold after the first deuce. Broady got on the board in the next game with a hold to 15 but Gavrilova responded with a hold to love to lead 4-1.
Broady held comfortably again and manufactured two break points in the next game which she took the first of to get it back on serve at 4-3. Gavrilova had a chance at 0-30 but Broady shut it down to hold to 30 and level it up at 4-4. Gavrilova held to love to force Broady to serve to stay in the set, and she couldn't as Gavrilova brought up three set points at 0-40 and took the first to level the match.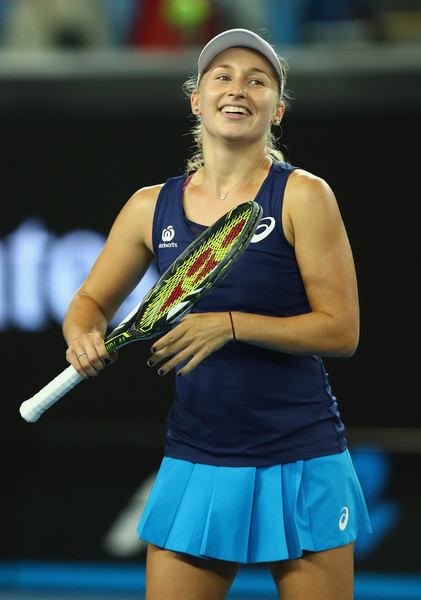 Gavrilova edges thrilling deciding set
It was all now set up for a thrilling deciding set and the Australian was to serve first. She held serve to 15 and the early stages of this set were a serving masterclass, with no break points faced in the first 7 games. Broady held to love at 1-1 and with every service hold, the tension was increasing. Gavrilova and Broady exchanged love holds at 3-2 and 3-3 and after Gavrilova to 15 to make it 4-3, we got the first bit of tension in the final set. Broady seemed comfortably again at 30-0 but Gavrilova manufactured a break point at 30-40. This was saved will to force deuce and Broady served two more of her trademark aces to level again at 4-4.
Gavrilova held to 15 and Broady powered down more aces to hold to love as it seemed the tension around the arena was not fazing the players. Gavrilova held again to 15 to make it 6-5 and the match-deciding drama would follow after the changeover. Gavrilova won the first two points to bring up 0-30 but Broady dug deep and found two more trademark aces to help her get it back to 40-30. Gavrilova would then win the next to force deuce and was able to bring up a match point. Broady missed a backhand wide and Gavrilova was able to come through this epic match 3-6, 6-4, 7-5. Broady looked visibly upset but there was an excellent handshake at the net as both players are good friends off court.
Daria Gavrilova will play Ana Konjuh next after the Croat beat Kristina Mladenovic, in another hotly anticipated match. Konjuh is in good form after recently reaching the final of the ASB Classic in Auckland. Naomi Broady is entered into the doubles draw with Heather Watson and her next singles event is likely to be a $100K ITF event in the United States.