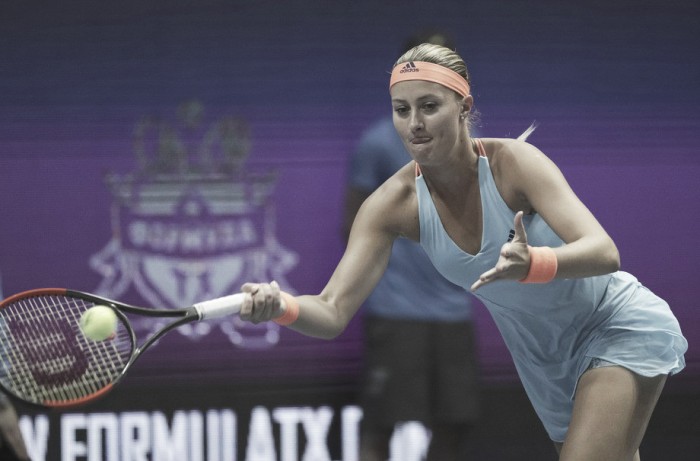 Kristina Mladenovic booked her spot in the biggest final of her career with a win over wildcard Natalia Vikhlyantseva in the semi finals of the St Petersburg Ladies Trophy, 4-6, 6-2, 6-2. Mladenovic came in to the match following wins over Elise Mertens, Venus Williams and Roberta Vinci, while Vikhlyantseva had beaten Yaroslava Shvedova and Daria Kasatkina, while receiving a walkover in the quarter final after Simona Halep withdrew with injury.
Vikhlyantseva steals a topsy-turvy first set
Vikhlyantseva opened the set by serving and showed what a tight set it would prove to be from the opening game. Mladenovic forced deuce but the Russian could close it out to lead 1-0. Vikhlyantseva brought up a break point of her own at 30-40 but a good serve followed by a clean winner saved it. On the second deuce, the World number 115 brought up another break point and took it to snatch an early lead, 2-0. Mladenovic was not disheartened, and brought up 0-30 in the next game. A break point followed at 30-40, which she duly took to get back on serve. A comfortable hold to 15 followed to even the set again at 2-2. The fifth game was a topsy-turvy one indicative of the set, as Vikhlyantseva had 40-15 but forced back to deuce. 4 break points from deuce came and went, but on the 5th break point Mladenovic was able to break and claim a 3-2 lead. Vikhlyantseva failed to convert on two break points and Mladenovic held after the second deuce to claim a 4-2 lead.
Vikhlyantseva regained momentum after losing four straight games with a hold to 15. She brought up a break point at 30-40 and took it to even up the first set yet again. Vikhlyantseva dug deep as she forced deuce from 15-40 down and the saved two more during deuce to hold for 5-4. Mladenovic was then staring down a big hole at 15-40 and Vikhlyantseva was able to claim the second set point to seal the first set, 6-4.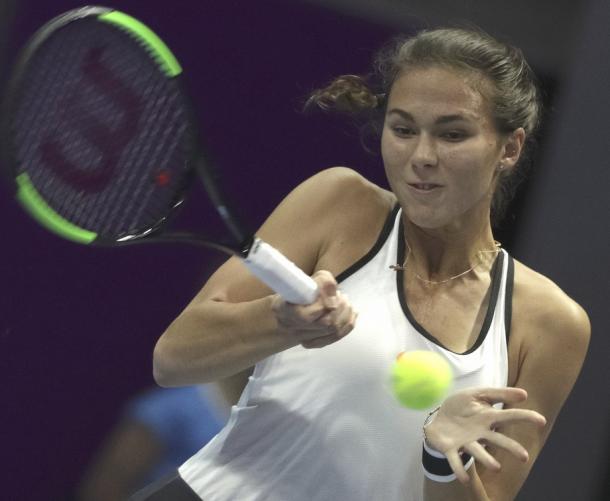 Mladenovic bounces back in Set 2
Vikhlyantseva suffered from a bit of a come down at the beginning of set 2, errors slipped in to her game and she was broken without winning a point to start with. The second game was more competitive, Mladenovic was forced to deuces but was able to scrape out of the game to lead 2-0. Both ladies exchanged comfortable holds to as the Frenchwoman led 3-1. Another poor game for the Russian followed, as sloppy errors were slipping into her game and another love break for Mladenovic followed. Vikhlyantseva was visibly frustrated but after a comfortable Mladenovic hold, she was also able to hold serve to force the World number 51 to serve it out. She brought up two set points at 40-15 and only needed the first to clinch the second set, 6-2.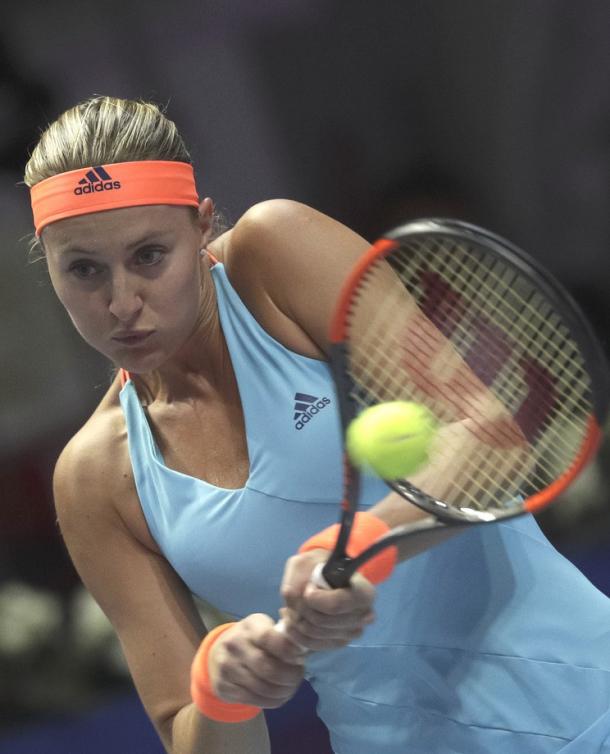 Mladenovic powers away to victory
Vikhlyantseva still had the troubles of the second set on her mind as she started the third set and Mladenovic brought up two break points at 15-40, and served a double fault at the most inopportune moment to hand Mladenovic the break. A long second game followed, where Vikhlyantseva squandered an opportunity to break and Mladenovic had multiple advantages before finally holding a cementing her grip on the deciding set, 2-0. Comfortable holds for both Vikhlyantseva and Mladenovic followed before the Frenchwoman brought up two break points in the next game, and took the first and end all hope of a comeback for the Russian. Mladenovic then held to 30 after being down 0-30 to get within a game of victory. Vikhlyantseva held to force Mladenovic to serve out for the match, which she duly did after bringing up a match point at 40-30 and she only needed the one. Mladenovic wins 4-6, 6-2, 6-2.
Mladenovic will play Yulia Putinseva in the final after she beat the Number 2 seed Dominika Cibulkova 3-6, 6-4, 6-4 in the semi final. It is a big opportunity for Mladenovic, who has never won a WTA singles title despite her doubles prowess. Vikhlyantseva will make her debut in the Top 100 next week, at rank 89, and will make her Fed Cup debut for Russia against Taipei next weekend.