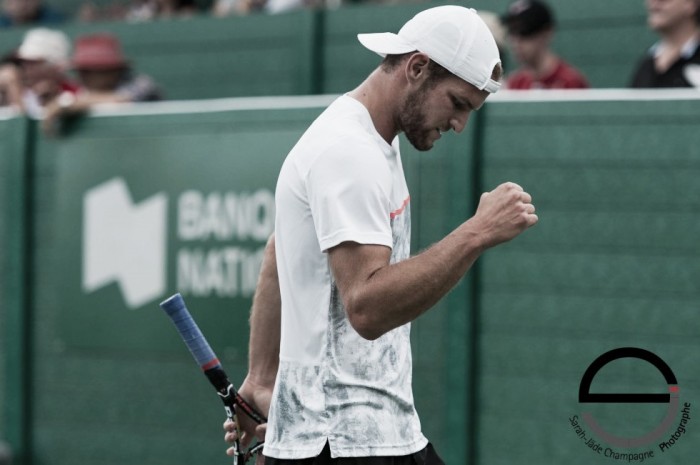 There have been many players who have come and gone in the Canadian tennis ranks, but few have been able to overcome as much adversity as Philip Bester, a 28-year-old from North Vancouver who will bid farewell to the game he has dedicated himself to for over 23 years in front of his home fans at the Odlum Brown VanOpen, where he will play the final tournament of his 10-year professional career.
In a career that has seen him get as high as number 225 in the world and number eight in the junior rankings, win nine singles titles and an impressive 20 doubles titles on the ITF Pro Circuit, and play a crucial role on Canada's Davis Cup team, Bester feels the time is right to close one of the most meaningful chapter of his life, a chapter that has given him so much over the years, and choose to start an even better one stemmed from his selfless attitude towards giving back.
"I think one of the main reasons [for my decision to retire] is I'm ready to pursue something else in life and experience the next chapter in life because there is so much more to life than being a professional athlete," he said in a telephone interview from North Carolina just days after announcing in Granby that he would take one last swing before hanging up his racquet on home soil. "I think part of it was influenced by financial stress and along those lines, I just need to create a little bit more of that stability in my life and as much as I love the game of tennis and I love competing and I can still compete at a very high level, I just started to look at my future and at the age of 28, I felt that it was the right time for me to close this chapter and pursue the next challenge in life and still give myself time to not only be successful in it, but you know, look forward to things like family and personal stability, and the most important thing is that I'm at peace with it."
"I'm very excited about, you know, taking the next step as tough as the decision has been to retire."
Originally born in West Germany but raised in Vancouver, British Columbia, Bester's tennis journey began at the tender age of five where his father introduced him to the game and late instilled in Bester, with the help of a coach named Rufus Nel, the basic fundamentals until he turned 14, by which time he had already moved south of the border and signed a contract with IMG Sports and Entertainment to train full-time at the prestigious Nick Bollettieri Tennis Academy, which has remained a training ground for him throughout his professional career.
One of the most successful juniors to ever grace the Canadian tennis ranks, Bester enjoyed monumental success at the national level, topped off with winning the Canadian U18 Nationals at just 16 years of age, while also later claiming his first-ever professional victory over compatriot Rob Steckley in 2005. However, it wasn't until a year later that he announced his presence to the tennis world by making a historic run to the 2006 Junior French Open final, where he became the first Canadian to ever reach a junior or professional Grand Slam final.
Great things were expected of Bester who, at 17, was once destined to become the new face of Canadian tennis, but sadly the results just never reached those heights at the senior level. For much of his career, Bester found himself playing at the lower Challenger and Futures events, which allowed him to reach a career-high of number 225 in singles and 140 in doubles. He never made a Grand Slam main draw, nor did he ever play more than 10 singles matches on the main tour, winning two of them. Consistent injuries were to blame for playing a big role in keeping him from fulfilling his potential as persistent back problems, a number of stress fractures throughout his body and a hip issue that needed to be corrected surgically in 2013 all kept him away from doing what he loves most, making it hard for him to gather any momentum or confidence in himself without consistent match play.
With that being said, there were also a number of high points along the way for the North Vancouverite, many of which coming while flying the Canadian flag or competing on home soil. In 2011, Bester was the hero for Canada in the nation's Davis Cup tie with Ecuador, winning the decisive fifth rubber to clinch a memorable and somewhat historic 3-2 victory for Canada, having trailed 0-2. That win over the host nation pushed the Canadian Davis Cup team into the World Group for the first time in seven years, and would be a place they continued to excel in in the next three years.
For Bester, that win really sticks out head and shoulders above the rest, especially considering the incredible pain he was in prior to even having to take the court for that decisive match. "Playing that match with a broken wrist on a day that I couldn't even hold my toothbrush—that really stands out for me [when looking back at my career] because it's more than just, you know, playing for yourself: I was playing for my team, I was playing for my country and I've always prided myself on representing Canada while I play so any time that I received a call for Davis Cup, I think [it's] been my greatest memory specifically."
Two summers ago, Bester teamed up with Gabriela Dabrowski to take home the silver at the PanAm Games in Toronto and just last year, he joined forces with compatriot Adil Shamasdin to record the biggest victory of their careers over then-world number one Novak Djokovic and his partner, former doubles world number one, Nenad Zimonjic at the Rogers Cup presented by National Bank.
"That was a very significant win for me personally to beat two quality players [considering] who they are and their stature and what they've accomplished, [and] playing it on home soil in Canada was very special," he reflected, adding how this and his historic Davis Cup victory are the two moments that stick out from a decade on tour.
VAVEL USA's Max Gao sat down with Bester ahead of his farewell tournament in Vancouver to reflect on a career that saw a five-year-old, little boy with a dream of becoming number one in the world turn into a man who is set to leave the professional game after nearly a quarter-of-a-century with seemingly no regrets.
Max Gao (MG): How does the 18-year-old Philip, who turned pro 10 years ago, compare to the one that stands here now? What advice would you have given yourself or would you have wanted to have before you officially began this professional journey?
Bester: The one that stands here now is much more wise, mature and holds a better perspective on things than at 18. Things aren't looked at from under a microscope like they were when I was 18. The advice I would have given myself is enjoy every moment to the fullest because one day it will come to an end.
MG: How would you say tennis has shaped your life, considering it's all you've really known for most of your childhood and much of your early adult life?
Bester: I think it's pretty much shaped the person that I am, not just part of my personality, [but] my character. You know, going through these athletic challenges have really taught me how to be a good problem solver, how to be persistent, and always just try to find a way and never give up—always trying to find a way to stick to the process and understand that all these challenges and roadblocks that I have hit were part of the journey. And like, that's like anything in life. Nothing happens overnight and it's not gonna be a straight line in whatever you want to accomplish, whether it's work-related or personally or personal goals. So I think that going through these experiences and all these athletic challenges, whether they were injuries or financial stress, or just dealing with losses and even simple things like travelling and a flight getting cancelled or your bags not arriving at the tournament and you have to play that day—all those things kind of combine to being a good problem solver and simply just becoming stronger and being better and finding solutions for things.
MG: That's amazing to hear. I never truly realized that tennis, not just on the court, can really shape not only your character but also parts of your personality. After all these years of playing at such a high level, what do you think you're going to miss most from life on tour?
Bester: I think what I'm gonna miss is competing: I'm gonna miss that feeling of winning a tennis match; I'm gonna miss the feeling of being so nervous that I can't hold a tennis racquet anymore. And just, you know, being around fellow players, being able to compete and play at the highest level and I guess that passion and that love I had for the game, I think it all comes down to I'm gonna miss competing. And I think everything that comes with it: preparing for matches, recovering after matches and looking forward to playing certain opponents, and again, I'm gonna miss those highs of winning tournaments and winning matches, but I'm also gonna miss the lows of, you know, losing some matches and then having that motivation to get back to the drawing board and trying to come up with a solution for the next match.
MG: So finally, what do you see yourself doing in your retirement?
Bester: I see myself continuing to stay in tennis. I think that I've gained valuable experience and knowledge that I would like to pass on to every level of the game, whether it'd be juniors, adult, high performance or recreational players. I've always had a natural passion to make a difference in people's lives and it really fulfilled me to be able to help somebody and with my knowledge as a tennis player, not only skill wise, [but also with my] tour experience, I think as a person I've learned a lot and I think that it drives me to want to be a coach or be in a position where I'm really influencing and making a difference in either somebody's tennis career or in a tennis program. I have a lot to give back and it's important for me to give back to the game of tennis because the game of tennis has given me so much in my life.
So it turns out that when the final ball is hit and the final point is played of Bester's professional career this week in Vancouver, he won't be straying far from the game; instead, even in a world of endless options and opportunities, he will be looking to give everyone the gift of tennis, just like how he was given the gift of the game as nothing but a five-year-old, little boy with a big dream.