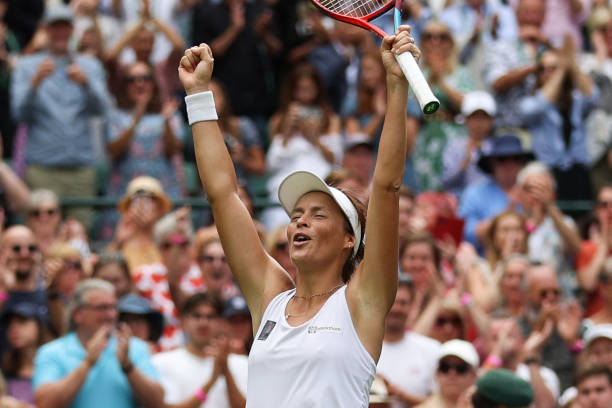 Tatjana Maria continues to write a magical story at 2022 Wimbledon as the 34-year old reached her first Grand Slam semifinal with a 4-6, 6-2, 7-5 victory over compatriot Jule Niemeier on Court 1. in two hours, 18 minutes.
The powerful 22-year old needed just one break to win the opening set and a break to begin the second had her in full control until world number 103 Maria hit back, winning six of the next seven games to even the match.
Niemeier appeared to have regained her form, going in front 4-2 in the deciding set, but again Maria rallied, claiming five of the final six games to become the fourth-lowest ranked player since 1984 to reach the last four at the All-England Club.
Story of the match
It was Niemeier who started out the match on the front foot, grabbing an immediate break when Maria meekly misses on a squash shot. It could have been a double break advantage, but Maria eventually got out of trouble.
The power game of Niemeier, combined with exquisite net play, charging forward when she gets the chance, something rare for a player of her size, is on full display as she survives several deuce games to go in front 5-3.
Serving for the set, Niemeier got to 40-15, bringing up double set point. She only needs one with another heavy serve out wide that Maria has no response for to close out a set in which she never faced a break point.
The world number 97 looked to be in control, a lovely backhand pass giving her a break to open the second set, but Maria was able to break back, double faults haunting Niemeier in that game.
Sensing her opportunity, the world number 103 seized control of the set, winning three games on the bounce to open up a 4-1 advantage and when Niemeier started to play more conservatively, she took full advantage, breaking to win the set.
A first ace seals an important hold for Niemeier in her first service game of the third set and when Maria flies a groundstroke long, the 22-year old broke and claimed a 3-2 edge, a subsequent hold making it 4-2.
As she has so many times throughout this tournament, Maria fought back, winning three consecutive games to go in front 5-4 and put herself a game away from the semifinals.
At 5-5, deuce, the biggest point of the match saw Maria at the net and Niemeier staying back, a deft volley from the 34-year old has her scrambling from all over the court, eventually a delicate winner wins her the game.
Serving to stay in the tournament, Niemeier was unable to handle the biting slices of Maria and down match point, approached the net for the 73rd and final time (winning 42 of those approaches), netted a volley as Maria continues her incredible run on her comeback from her second maternity leave.