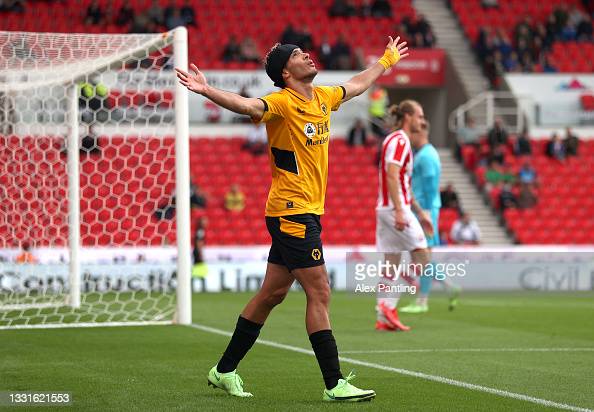 Match report from VAVEL's Josh Holland
Thank you all for following along
FULL TIME (1-1)
Chances for Cutone! (1-1)
Silva and Batth battling for the ball
Wolves pushing for the winner (1-1)
More changes for Wolves (1-1)
The apprentice replaces the master
Changes for Wolves (1-1)
Penalty shout there for Wolves! (1-1)
But first it is changes for Stoke! (1-1)
Wolves subs warming up! (1-1)
Batth should have gone for an early bath! (1-1)
Kilman with a strong tackle at the other end! (1-1)
CHANCE! Gibbs-White shot saved (1-1)
A good start for Wolves (1-1)
Trincao will not get a free-kick for this in the Premier League
Mistake and chance for Gibbs-White (1-1)
Great play from Wolves (1-1)
Gibbs-White immediate impact (1-1)
Changes for Wolves at the break
Second half incoming! (1-1)
Plenty to ponder for Lages
Jimenez celebrates his first goal since his injury against Arsenal last season.
HALF-TIME (1-1)
Batth again comes close from a corner (1-1)
Jimenez finish for the equaliser.
Traore is unplayable in fantastic dribble (1-1)
Wolves strike back immediately with Jimenez slotting in the equaliser (1-1)
Batth puts Stoke ahead (1-0)
Traore and Jimenez link together in a good header (0-0)
Game settling down now (0-0)
Traore chance
Wolves looking lively (0-0)
Chance for Stoke (0-0)
It was inevitable! (0-0)
And we are off! (0-0)
Wolves fans applaud Batth
Great to see fans in the stadium.
5 minutes to kick off!
Not quite Marbella.....
It is a 3-4-3 again....
A warm reception for the Wolves players
New Wolves keeper getting warmed up
It is good to see him back!
Stoke teams news is in
And the Wolves subs
Wolves starting XI is in
Lage lays down ideas and aims for the season ahead
It is Matchday!
Tune in here for Stoke City vs Wolves
How to watch Stoke City vs Wolves: Live Stream on TV and Online?
What time is Stoke City vs Wolves?
Stoke City vs Wolves Prediciton
Latest games between Stoke City and Wolves
Key Player of Wolves
Key Player of Stoke City
Probable line-ups of Stoke City v Wolves
Wolves: First of double header
Stoke City: Final chance to impress
The match will be played at the Bet365 Stadium
Welcome to VAVEL.com's coverage of the pre-season match between Stoke City and Wolves