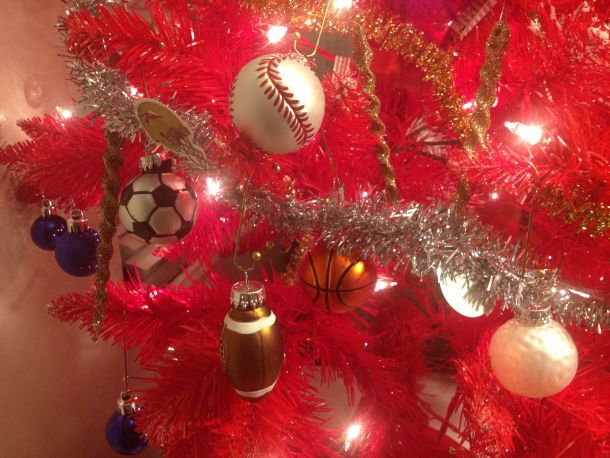 The curtain is dropping on 2014, and with 2015 around the corner, there's a long Christmas wish list that all fans would love to see in all corners in the world of sports. This is a sport-by-sport tour of what should be changed in all of the major leagues in American sports. A tweak here-and-there could make for a better world in sports, and isn't that what the Christmas spirit is all about?
Golf:
It's perfect the way it is. And the up and coming young talent says it's in good hands going forward.
NBA:
The NBA has quite a few things that could be changed for the better, but here is their most glaring problem. The schedule is way too long and everybody makes the playoffs. Since, the NBA will never dial back the playoff number, dropping down from 82 games to 52 would be a great start. Fans would pay more per ticket if the number of games were reduced, and there wouldn't be near as many games that teams would rest their stars in. By eliminating the home-and-homes between the two conferences, 30 games could easily be lifted. With more meaning to each regular season game, the TV ratings would soar as well. That would also make the NBA Finals the first match-up of the year for the two teams involved. Most fans don't look a lot of NBA before April, because each game has little value in the overall standings. Shortening the season solves that.
NHL:
See NBA. Also with 82 games, the NHL should drop to 52. Less is more. Fewer game would mean that teams wouldn't have to rest their goalies as much. Like the NBA, a shorter season would equate into more interest in each and every regular season game. Hockey could also benefit from an injection of offense. Dropping it down to five-on-five is worth a look. Sure, all the purists would be horrified, but the fan interest in the NHL is few and far between. More goals and action, as a result of less clutter on the ice, is worth a try.
NASCAR:
The improvements to the Chase were phenomenal, but they could go further. As opposed to 16 with 10 races left, make it 20 with 12 races left. Reduce the number slower, and let the final race have the top five as opposed to four. The larger number of fan bases involved in this Chase, the better. Also, stiffer penalties for post race fights. Suspensions would hurt a driver's chance to make the Chase, and that would negate the WWE feel to NASCAR's post race.
NCAA Basketball:
March Madness is about as perfect as it can be, but college basketball needs a little help in the regular season interest. Going to the college baseball rule of eligibility would help. Let these high-school players come straight to the NBA, but if they do not, they must stay at least 3 years. This would help build name recognition for regular season showdowns. Today's NCAA basketball season starts with a face-less tip to the season, because all the major stars are one and done. A January showdown between Duke's Jabari Parker and Jahlil Okafor vs. Kansas's Andrew Wiggins and Joel Embiid, could be billed as a prime time must-see event.
MLB:
Two things could really help the ever-popular Major League Baseball to go to the next level. First, and foremost, make the Wild-Card round a best of three playoff. A one game play-in is way too ridiculous. The game and rosters are built for a series. The playoffs should mirror the strategy of the regular season.
To make-up for the extra days in the playoffs, both the LDS AND LCS should be a best of five. Let the World Series be the only best-of-seven. It would give a special feel to the World Series, and make every game in the earlier series more important.
MLB should also realign the divisions for the sake of travel and fan interest/rivalries. Here is the divisional realignment that will work:
NL East- Atlanta, Tampa Bay, Miami, Philadelphia and Pittsburgh.
NL Central- Kansas City, St. Louis, Chicago Cubs, Chicago White Sox and Milwaukee Brewers.
NL West- LA Dodgers, LA Angels, San Diego, San Francisco and Oakland A's.
AL EAST- Boston Red Sox, New York Yankees, New York Mets, Washington Nationals and Baltimore Orioles.
AL Central- Cincinnati Reds, Cleveland Indians, Toronto Blue Jays, Detroit Tigers and Minnesota Twins.
AL West- Arizona Diamondbacks, Colorado Rockies, Texas Rangers, Houston Astros and Seattle Mariners.
NFL:
Most would say that the NFL is perfect. Most would say if it ain't broke, don't fix it. Most would be wrong. There are too many games and the league is getting over-saturated. It's time to dial it back.
The NFL should get rid of the Thursday Night Football game. It's usually a mismatch of a game, and that now forces the fan to devote up to 18-20 hours a week if you include the pre-game. Plus, the ever popular fantasy football leagues that are popping up, forces a player to turn their league into almost a seven-day a week job. Thursday games should be a special event on Opening Week and Thanksgiving.
NCAA Football:
Go to an 8 team playoff. The ACC, SEC, Big 12, Big 10 and Pac 12 get an automatic bid via a league championship game play-in game.
The three at-large bids would be selected from a committee, but a BCS-like computer/sports writer ranking would be revealed to the fans each week as well. This would keep the Notre Dames and BYUs eligible, but common sense would attract them to joining a power 5.
The conference championships would serve almost a round of playoffs. This would end any noise about going to a 16 team playoff. College football is the greatest, this formula would ensure that it is also fair to all fan bases.
Soccer, Tennis, Lacrosse, Rugby, the Olympics, X-Games and Cricket:
Nobody cares.
Merry Christmas sports fans!